September 20, 2018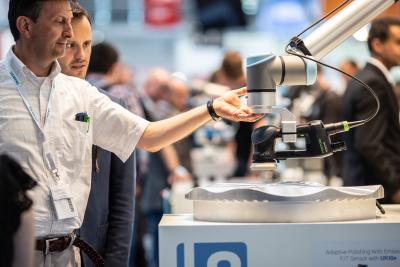 Universal Robots pioneered the collaborative robot and continues to evolve its ground-breaking, collaborative automation technology with the introduction of its new flagship line the e-Series cobots: UR3e, UR5e and UR10e robot arms.

"The e-Series strengthens the core principles that define collaborative robots: fast setup, easy programming, flexible deployment, safe operation, and a quick ROI," says Stuart Shepherd, regional sales director for Universal Robots' Americas region. "As manufacturers increasingly embrace cobots, we see the need to support even more demanding applications with the greater accuracy and tool integration of the e-Series."

With a new built-in, tool-centric force/torque sensor, the e-Series is ready to take on popular collaborative robot applications that require force control right out of the box, such as sanding, buffing, polishing and deburring where force-feedback is paramount to obtain uniform results. Additionally, the force/torque sensor can be used to measure mass and perform inspection processes or precisely detect contact. Increased repeatability of 30 microns (0.03mm) in the UR3e and UR5e models and 50 microns (0.05mm) in the UR10e makes the new cobots suitable for precise finishing, assembly and electronics tasks.

A redesigned intuitive and responsive touch user expedites program development by reducing programming to a few clicks on a new lightweight, wide-screen teach pendant. At the same time, advanced users can utilize the new externally accessible 500Hz system bus to implement more complex motion control algorithms or profiles, such as advanced machine vision applications.

The user interface now also includes the ability to program stopping time and stopping distance for protective stops. This unique feature, not found on any other collaborative robot, greatly reduces the complexity and uncertainty involved in performing predeployment risk assessments. All 17 safety functions are certified by TÜV Nord and comply with the latest ISO machinery safety standards for unobstructed human-robot collaboration.

The 'e' in e-Series stands for Evolution and underpins Universal Robots' key vision of Empowering People and making it Easy for Everyone. "End-users with complex applications and diverse or uncertain future needs will benefit from the e-Series platform and our unique UR+ ecosystem knowing that their investment will be able to grow with them as their needs change," says Shepherd, referencing the rapidly expanding portfolio of certified UR+ plug-and-play end-effectors, software and peripherals certified for UR cobots now available.

As the catalog and capability of UR+ products grow so has the need for increased tool power consumption. To address this emerging need the e-Series platform tool power supply now supports up to 2A of peak current. The new cobot line also adds four additional digital inputs with an associated interface for use with conveyor tracking. A new wrist-joint-tool communication interface reduces production line integration time and the hassle associated with routing cables between the end-effector and control cabinet. All joints are field replaceable in under 6 minutes.
"The global cobot market is the fastest-growing segment of industrial automation. The e-Series will continue to propel this class of robots forward into new applications in small machine shops and large enterprises alike. I look forward to introducing the IMTS audience to the e-Series experience," says Shepherd.
Related Glossary Terms
buffing


buffing

Use of rapidly spinning wires or fibers to effectively and economically remove burrs, scratches and similar mechanical imperfections from precision and highly stressed components. The greatest application is in the manufacture of gears and bearing races where the removal of sharp edges and stress risers by power methods has increased the speed of the operation.

polishing


polishing

Abrasive process that improves surface finish and blends contours. Abrasive particles attached to a flexible backing abrade the workpiece.