February 23, 2021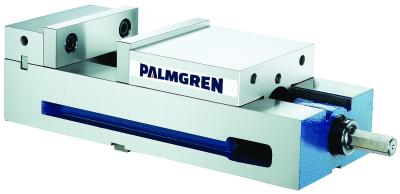 Built for use on all types of CNC machines, the Dual Force Machine Vises from Palmgren are ideally suited when high precision part clamping is important. The family of vises is ideal for applications requiring multiple vises to be mounted parallel to each other. Versatile, the vises can be mounted on their base or bottom or vertically positioned on their end. The vises are equipped with Palmgren's Dual Force so as to deliver workholding efficiencies by providing the strength and rigidity to hold parts securely and accurately. The #9626600 Dual Force Precision Vise from Palmgren features hardened jaw plates and vise bed and the Dual Force anti-lift mechanism.
Related Glossary Terms
computer numerical control ( CNC)


computer numerical control ( CNC)

Microprocessor-based controller dedicated to a machine tool that permits the creation or modification of parts. Programmed numerical control activates the machine's servos and spindle drives and controls the various machining operations. See DNC, direct numerical control; NC, numerical control.

parallel


parallel

Strip or block of precision-ground stock used to elevate a workpiece, while keeping it parallel to the worktable, to prevent cutter/table contact.