October 10, 2016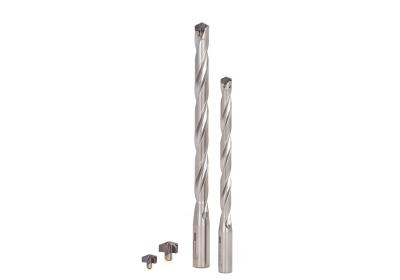 Tungaloy Corp. announces the expansion of DrillMeister, a head-changeable drill series. The drill body line is now expanded to L/D=12 in addition to the existing L/D=8 range.
DrillMeister has a unique self-clamping system, enabling fast and easy drill head replacements, according to the company. The insert can be replaced without removing the drill body from the toolholder or machine spindle, significantly reducing tool change time and eliminating a need for bothersome readjustment or resetting. The heads are replaceable in one simple and quick step with the drill body still in the spindle.
The new L/D=12 drill body will cover drill diameters from 12.0mm to 22.9mm, delivering outstanding deep-hole drilling performance with components, such as drive shafts and baffle plates for heat exchangers. The optimized helical flutes on the drill body are surface treated for smooth chip evacuation, making DrillMeister capable of deep drilling where chip evacuation is usually difficult.
DrillMeister will not only increase productivity but also reduce total machining cost by shortening tool change time and eliminating refurbishing cost.
Main features:
• Drill diameters: 12.0 - 22.9mm (in 0.1mm increments); Drilling depth: L/D=12
• The flute on the drill body has a high helical angle and a special surface treatment for smooth chip evacuation.
• Unique self-clamping system for easy and quick head changes.
• A smart durable structure of drill head locking mechanism secures the head for rigid clamping, increasing the possible number of head changes and repeatability.
• The margin preparation on the drills cutting edge can achieve a high hole precision which is equal to that of a solid drill.
• No need for refurbishing reduces tooling cost and inventory as well as simplifies tool administration.
Related Glossary Terms
flutes


flutes

Grooves and spaces in the body of a tool that permit chip removal from, and cutting-fluid application to, the point of cut.

toolholder


toolholder

Secures a cutting tool during a machining operation. Basic types include block, cartridge, chuck, collet, fixed, modular, quick-change and rotating.
Additional Products from Tungaloy America Inc.