September 03, 2019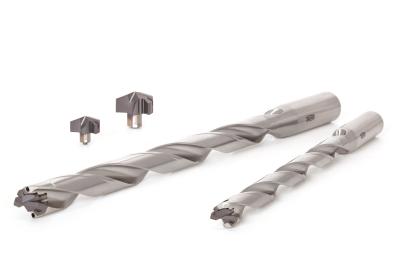 Tungaloy expands the drill diameter range of the DrillMeister exchangeable-head drills to include diameters from 8.0 mm to 11.9 mm in 12xD body length.
DrillMeister features a unique self-locking interface that assures easy and secure drill head exchange. Since drill heads can be exchanged without removing the entire drill body from the spindle, setup time is significantly reduced, eliminating presetting, offset and touch-off of the replaced tool.
The drill head is mounted or removed from the body by simply twisting the head with a dedicated key wrench while on the machine spindle. In addition, the drill body features optimized helical flutes with a high helix angle and specially treated surface to efficiently evacuate chips from the cutting point to the outside. This makes the tool ideal for deep-hole drilling where chip evacuation is usually problematic.
At a Glance
New drill diameters ranging from 8.0 mm to 11.9 mm in 0.1 mm increments in 12xD body length
High helix angle and special surface treatment on the helical flutes for improved chip evacuation
Easy and secure drill head clamping thanks to innovative self-locking interface
High hole accuracy of solid drills is possible thanks to the drill head with margins
No need for regrinding. Eliminates costs for regrinding and reduces tool management and inventory
Eight drills to be added in this expansion
Related Glossary Terms
flutes


flutes

Grooves and spaces in the body of a tool that permit chip removal from, and cutting-fluid application to, the point of cut.

helix angle


helix angle

Angle that the tool's leading edge makes with the plane of its centerline.
Additional Products from Tungaloy America Inc.