June 23, 2016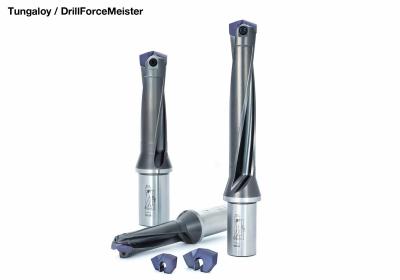 Tungaloy Corp. announces the expansion of DrillForce-Meister, the series of interchangeable-tip drills. DrillForce-Meister is a tool series for large-diameter holemaking (drill diameters from 26.0 to 41.0 mm) that features two effective cutting edges for high speed and high productivity.
DrillForce-Meister's clamping system uses a unique error proof asymmetric seat and a screw setting, which allows easy and swift head replacement by simply loosening and tightening the screw. Since a new drill head can be mounted without removing the drill body from the spindle, the full resetting and reindexing process is eliminated, shortening entire tool change time. By replacing the head screw regularly, the drill body can be used for an even longer period, reducing tooling cost and inventory requirements.
The drill head is supported by a wide contact area on the seat so the drill can withstand the high cutting force generated during high-feed drilling. The insert seat is designed with precision, providing excellent repeatability and minimizing run-out.
The cutting edge is prepared to increase coating adhesion of the highly reliable AH725 grade. Prolonged tool life is achieved with the smart combination of cutting edge geometry and grade property.
DrillForce-Meister will not only increase productivity but also reduces total machining cost by shortening tool change time and eliminating regrinding cost.
Related Glossary Terms
cutting force


cutting force

Engagement of a tool's cutting edge with a workpiece generates a cutting force. Such a cutting force combines tangential, feed and radial forces, which can be measured by a dynamometer. Of the three cutting force components, tangential force is the greatest. Tangential force generates torque and accounts for more than 95 percent of the machining power. See dynamometer.
Additional Products from Tungaloy America Inc.