November 13, 2018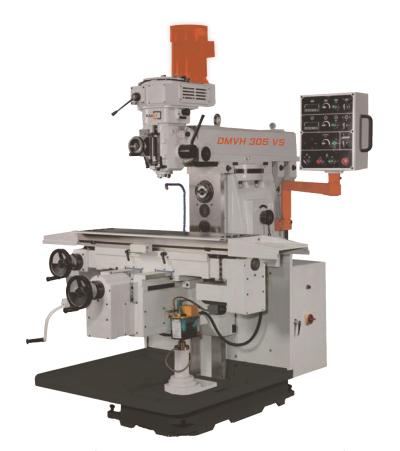 Looking to drill, bore, cut, or make slots? Look no further than the extensive DMV series of milling machines in stock in Philadelphia and ready to ship from KAAST Machine Tools. Offering both bed-type and knee mills with either manual or CNC options, this Taiwanese series provides high-quality performance.
The DMV 380 CNC bed-type milling machine is a bed-type milling machine featuring a vertical drilling and milling head with a ±45° swivel and an automatic spindle feed. It also utilizes the award winning, conversational Fagor 8055i controls, intended for operators with or without G-code experience. This software is for high-speed machining, with advanced algorithms included to ensure a high degree of accuracy with each use.
With interface customizing tools, free software download with no time limit to work at any PC, and axis position control (position loop) every 250 µs, the Fagor CNC analyzes in advance the changes in the movements of the axes providing high-speed machining analyzing 2,400 blocks in advance with a block processing time is 0.25 ms.
Also available is the DMVH 305 VS knee mill, combining both the traditional vertical turret found on knee mills with a 40 taper 5-hp horizontal spindle.
Offering infinitely variable speed control, the entire DMV series offers quiet operation with V-belt drive, a swivel range left and right ±45°, and rotation of the upper arm around the column 360° This diverse series offers table sizes ranging from 10x50" to 20x87", allowing users to select the appropriate size for their specific needs. All of these machines offer box ways on the Y-axis and column, semi-guarding (full guarding available), and 3-axis digital read out.
Manufactured in Taiwan from Meehanite cast iron, which is annealed and stress-released, providing high rigidity and wear resistance. All guideways are coated with Turcite B and the XYZ slideways, table, and T-Slots are hardened and ground.
Standard configuration:
● Electronic hand-wheels for manual operation with simple and easy DRO mode
● Constant Surface Speed for better finishes
● Graphic display of toolpath
● Built-in tool library for tool management
● Automatic lubrication system
● Center sleeve
● Leveling pads and bolts
● Electrical handwheel (MPG)
● Automatic speed change
● Work light