October 01, 2010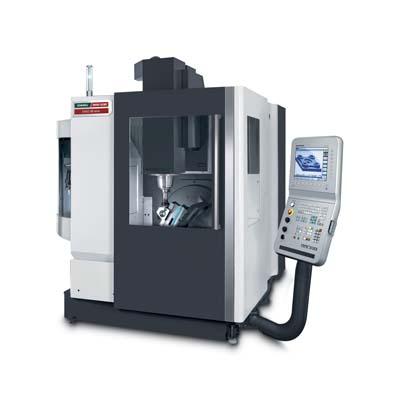 DMG/Mori Seiki USA's DMU 50 eco CNC 5-axis control machining center is designed to be the ideal 5-axis machine tool for low-cost, high-quality parts machining with a shortened delivery time. This next-generation standard machine reduces cost by also reducing fixturing and setup time while improving accuracy, according to the company. Offering excellent cost performance, the DMU 50 eco is especially advantageous for users who are introducing 5-axis machining to their manufacturing process for the first time.
Equipped with the same configuration as the DMG DMU 50, the DMU 50 eco has all basic functions necessary for indexing 5-axis machining. The DMU 50 eco uses an NC swivel rotary table with digital drives as standard. The NC swivel rotary table consists of the B-axis with the tilt angle from -5 degrees to +110 degrees and the C-axis that can rotate 360 degrees. The B-axis, which can tilt another 20°From vertical position, allows back side milling and flexible indexing 5-axis machining by combining with the C-axis.
Additional standard features include a maximum rotational speed of 8,000 rpm, 16 tool storage capacity and manual pulse handle. The machine also achieves both space saving and excellent operability by using a cantilevered table and wide-opening front doors, offering excellent accessibility to the table, thereby maximizing productivity per unit area.
Furthermore, the DMU 50 eco is an even greater value because it is now covered by DMG/Mori Seiki USA's comprehensive customer service plan, including a 24-or-free guarantee for replacement parts and 2-year warranty.