June 13, 2013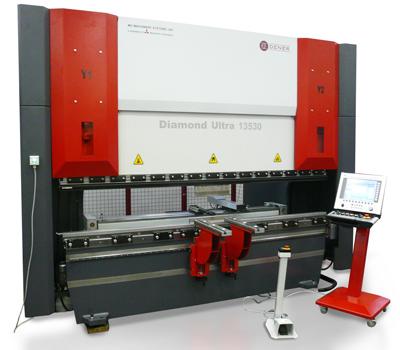 MC Machinery Systems Inc., in partnership with DENER, has introduced the DIAMOND ULTRA CNC press brake. The ULTRA features a large, open height and stroke, and range from 150-ton x 10 ft. to 363-ton x 13 ft. in size. The up to 200mm (7.87")/s approach speed and up to 15mm (5.9")/s bending speed translate into quick operations, and the 650mm (25.6") back gauge stroke with maximum with second and third programmable stops to 1082mm (42.6"). And the 175-ton model features a large, 350mm (13.8") standard stroke.
Siemens electronics and German-made Hoerbiger valves reportedly promise quality, and the heavy duty, easy-to-adjust solid steel front linear guided support arms promise longevity. These arms come withmm/in. scales, ball transfers and front gauge stops.
Linear guided Z1 and Z2 back gauge fingers come standard, as do Fiessler safety PLC for checking conditions and easy connection of future optional CNC devices, including laser light beam for finger protection.
Work area interiors feature LED lights, and a 15-in. ESA 550 color touch screen comes with Windows XP Pro and 40 gigabytes of memory. Plus, 3-D movie simulation and still images are available from off-line Diamondsoft CAD/CAM.
Related Glossary Terms
3-D


3-D

Way of displaying real-world objects in a natural way by showing depth, height and width. This system uses the X, Y and Z axes.

computer numerical control ( CNC)


computer numerical control ( CNC)

Microprocessor-based controller dedicated to a machine tool that permits the creation or modification of parts. Programmed numerical control activates the machine's servos and spindle drives and controls the various machining operations. See DNC, direct numerical control; NC, numerical control.