January 29, 2018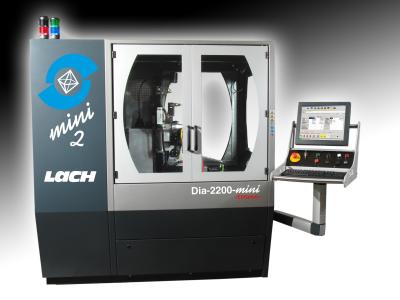 The spark grinding machine »Dia-2200-mini« from Lach Diamond is for the production and service of diamond tools for the wood and composite industry. Its universal 5-axis CNC system is designed for the automatic sharpening of diamond tools and saw blades with up to 530 mm in diameter.
The »Dia-2200-mini« combines sharpening programs for new production and service of Dia end mills and Dia jointing cutters with and without axis angles, Dia scoring saws, Dia saw blades (all tooth types) as well as – at no additional cost - profiling programs (contour-controlled with copper electrode or in-feed with graphite electrode).
The program for multiple production is also available at no additional cost – automatic sharpening of multiple Dia tools or, for example, axis angle jointing cutters.
A new axis angle program allows for extreme axis angles of more than 45° during production and service. A decisive factor for the development of this program was the tremendous increase in the variety of different materials during recent years.
One example: Fiber composites are booming – glass fibers (GRP) in the recreational industry, carbon fiber-reinforced plastics (CFRP) in aircraft manufacturing or agricultural machine industry and now also basalt fabrics in the automobile industry.
In the furniture industry, the "zero joint" due to new machine technologies, should be mentioned.
The universal grinding machine »Dia-2200-mini« is equipped for these challenges during new production and service of tools with this program for extreme axis angles. During the subsequent use of the tools, impeccable milling results and flawless surfaces can be expected for composite workpieces, without any reworking being required, according to the company.