October 13, 2013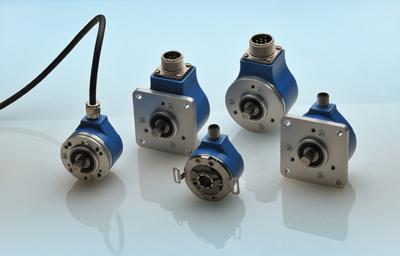 SICK announced the launch of the DFS2X line of programmable incremental encoders. These 16-bit encoders feature a compact, rugged mechanical design and a metal code disc that fits in nearly all applications.
The DFS2X encoders offer shaft, blind hollow and through hollow versions in a small 2-inch housing, as well as a shaft version with a 2.5-inch housing. In addition to its small size, the IP 65-rated metal design is resistant to shock and vibrations, which reduces downtime and enables use in harsh environments. A variety of programmable options give users the ability to configure the resolution, the zero pulse phase and other settings on a single encoder, thereby reducing spare parts inventory.
All DFS2X encoders are manufactured in the United States, ensuring delivery times of just 2-3 days. With settings from 1 to 65,536 PPR, the high-resolution DFS2X incremental encoders are ideal for packaging, printing, roll diameter sensing and general manufacturing applications that require precise positional feedback or speed monitoring. These encoders can also be used to provide speed and direction input to both bar code and 3D camera systems.