December 05, 2017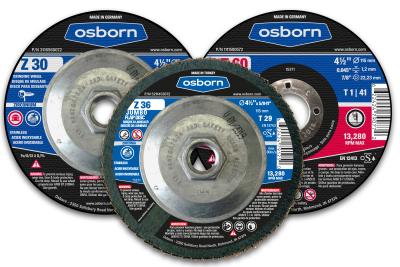 Osborn introduced a second wave to its line of abrasive products. The line expansion includes additional depressed-center grinding discs, cut-off discs and flap discs. All products are produced in Osborn's new manufacturing facility in Germany.
With the expanded line of abrasive products, Osborn introduced a full line of pipeline grinding discs in advanced aluminum oxide and zirconia for reportedly improved performance and longer life. Osborn introduced a zirconia option for its grinding wheels, which improves speed and durability. Osborn also introduced its line of HD flap discs, which provide up to 40 percent more life than standard flap discs and can remove material quickly and leave a clean finish in the same step.
Osborn's abrasives are engineered and manufactured using high-quality materials and state-of-the-art equipment. Combining the best materials and process excellence with designs and formulations developed by R&D engineers, Osborn delivers consistently high-quality grinding discs, cut-off discs and flap discs for users who demand the most from their abrasives products. The new line of abrasives is designed to cover the full performance spectrum, including fast cutting, heavy stock removal, long service life, application material versatility and smooth finish.
"With the most recent additions to Osborn's abrasive line, we spent a great amount of time listening to customers and researching how we can suit their needs," said Scottie Mahl, director of marketing and product management at Osborn. "Osborn is always trying to evolve to meet our customers' demands by being a total finishing solution provider that offers top products at industry-competitive prices."
The newly expanded line of abrasive products includes 130 product SKUs.
Related Glossary Terms
abrasive


abrasive

Substance used for grinding, honing, lapping, superfinishing and polishing. Examples include garnet, emery, corundum, silicon carbide, cubic boron nitride and diamond in various grit sizes.

aluminum oxide


aluminum oxide

Aluminum oxide, also known as corundum, is used in grinding wheels. The chemical formula is Al2O3. Aluminum oxide is the base for ceramics, which are used in cutting tools for high-speed machining with light chip removal. Aluminum oxide is widely used as coating material applied to carbide substrates by chemical vapor deposition. Coated carbide inserts with Al2O3 layers withstand high cutting speeds, as well as abrasive and crater wear.

grinding


grinding

Machining operation in which material is removed from the workpiece by a powered abrasive wheel, stone, belt, paste, sheet, compound, slurry, etc. Takes various forms: surface grinding (creates flat and/or squared surfaces); cylindrical grinding (for external cylindrical and tapered shapes, fillets, undercuts, etc.); centerless grinding; chamfering; thread and form grinding; tool and cutter grinding; offhand grinding; lapping and polishing (grinding with extremely fine grits to create ultrasmooth surfaces); honing; and disc grinding.