July 12, 2018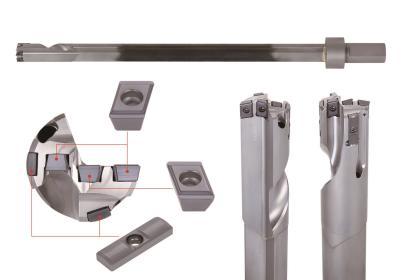 Tungaloy further expands its popular indexable gundrill series, DeepTriDrill to include a diameter range of 28.01 mm – 40 mm or 1.1" – 1.57".
Deep-hole drilling is a challenging operation, often inducing bottlenecks in many manufacturing shops. Brazed gundrills and solid twist drills are traditional tools for this operation. The typical brazed gundrills usually accommodate a single-flute, noncoated carbide tip, which constrain its applications to low parameter drilling. The solid twist drill is better for high feed drilling; however, curved holes and chip clogging are common setbacks. Reconditioning and inventory management also incur significant extra costs with manufacturers.
The new DeepTriDrill range incorporates three inserts and two guide pads oriented in an optimized position on the drill head. This helps achieve high accuracy regarding hole circularity, straightness, and surface finish, which was traditionally reserved for brazed gundrills. The insert features chipbreakers designed to create optimal chip flow during deep hole drilling. Improved chip evacuation and reduced cutting forces enable higher feed rates than traditional gundrills. The coated inserts and guide-pads also allow DeepTriDrill to reach higher cutting speeds, which is difficult with brazed gundrills.
DeepTriDrill not only increases drilling performance while maintaining machining stability, but also facilitates inventory management thanks to its indexable system. This large diameter range expansion complements DeepTriDrill, further enhancing its product positioning in the deep hole drilling market for high productivity and economy.
Product at a glance:
Optimized insert and guide-pad orientations, based on BTA drilling technology, for high accuracy with hole circularity, straightness, and surface finish
Allows 1.5-3 times higher feed rates than that of brazed gundrills
Economical two-edged inserts and double-ended guidepads
Chipsplitters on the chipbreaker geometry for optimized chip evacuation
Service free: no reconditioning or tool inventory management required
Two drill body types available: MCTR for use in machining centers and lathes; and TRLG for use in dedicated gundrill machines
Additional Products from Tungaloy America Inc.