August 29, 2016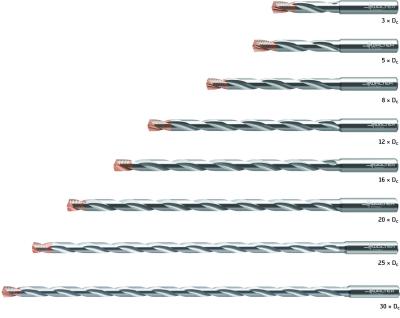 Walter has expanded its successful DC170 Supreme internally cooled, solid-carbide drill with the introduction of two new sizes, the 25xDc and 30xDc. These sizes extend the drill line, aimed at ISO material groups P, K, and H, to new depths, while keeping the performance enhancing benefits of the DC170 line. These include increased productivity thanks to 50 percent longer tool life with 35 percent higher machining parameters in comparison to conventional solid-carbide drills, according to the company.
The design of the lands is a key factor in this performance, thanks to their shallow cooling grooves at the drill end. The coolant flow encompasses the entire drill point, producing optimal cooling of both the drill and the workpiece interface, and inhibits chip packing. This is particularly important given the high temperatures generated during drilling. The drill's design features more material behind the cutting edge which makes the drill sturdier than conventional designs, thus boosting tool life, stability and process reliability.
Additionally, this ability to control the coolant flow contributes to an excellent surface finish that helps users avoid reworking holes after drilling. The innovative alignment of the new lands design results in significantly smoother drill operation, reducing vibration to a minimum, which also enhances hole quality.
DC170 drills feature eight visible cooling grooves, and these can be used as a scale for regrinding. The drills can be reconditioned up to three times, until only two cooling grooves remain.
Related Glossary Terms
coolant


coolant

Fluid that reduces temperature buildup at the tool/workpiece interface during machining. Normally takes the form of a liquid such as soluble or chemical mixtures (semisynthetic, synthetic) but can be pressurized air or other gas. Because of water's ability to absorb great quantities of heat, it is widely used as a coolant and vehicle for various cutting compounds, with the water-to-compound ratio varying with the machining task. See cutting fluid; semisynthetic cutting fluid; soluble-oil cutting fluid; synthetic cutting fluid.