October 07, 2022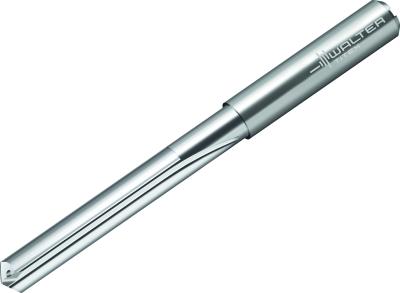 Walter has introduced the DC165 Advance, a family of straight flute solid carbide drills that improve performance, process reliability, tool life, and cutting data in non-ferrous (ISO N) and cast iron (ISO K) applications such as automotive engine blocks, cylinder heads, bed plates, camshaft, gearbox-and clutch housings and chassis parts to name a few; as well as for general metalworking.
They feature four polished margins that provide for less friction, and improve hole quality, surface finish, roundness, and straightness. Their polished clearance angle, relief angle, and flutes yield better wear behavior and better chip evacuation. The new drills are coolant-through, straight flute (G-drills), with emulsion or oil and coolant pressure of 145-580 PSI (10-40 bar). They are offered in cylindrical shank configuration and have a 120° point angle with tolerance of m7. They are also offered in L/D ratio of 5 x Dc as standard, with options for shorter and longer drills to be ordered and specials through Walter's signature Xpress quotation program.
The Walter lineup of products consists of three categories to tools. Advance which indicates product efficiently balanced between price and performance. Supreme indicates the highest level of technology and performance available and Perform tools are products that provide an economical solution with focused importance on price.