November 28, 2018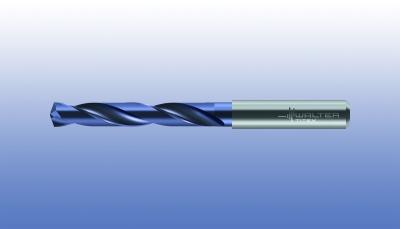 Walter has introduced the DC150 Perform 5 × Dc drill, a versatile and cost-effective solid-carbide drill that can be used universally with all materials and with a broad range of workpieces. Like the others in the DC150 Perform Line, the new drill is suitable for use anywhere small and medium batch sizes need to be machined with high precision and process reliability coupled with a high level of cost efficiency and wide applicability.
The new DC150 Perform 5 × Dc is designed to be used without internal coolant. Proven features of the existing DC150 Perform drill family, such as wear-resistance and good chip evacuation, have been included in this latest entry, along with geometry which includes a 140° point angle for high positioning accuracy.
The new DC150 Perform 5 × Dc solid-carbide drill expands the existing range of DC150 Perform variants. Until now, the DC150 Perform Line included length to diameter ranges of 3, 5, 8, and 12 x Dc, all with internal coolant capability. The new 5 x Dc for external coolant complements the existing 3 x Dc, offering for external coolant and allows the end user to select the product which best fits the application and cost basis of the operation.
The new variant continues Walter's vision for the Perform Line, which is "to offer customers the same outstanding Walter products, but without having to pay for a level of performance that's not necessarily needed."
Related Glossary Terms
coolant


coolant

Fluid that reduces temperature buildup at the tool/workpiece interface during machining. Normally takes the form of a liquid such as soluble or chemical mixtures (semisynthetic, synthetic) but can be pressurized air or other gas. Because of water's ability to absorb great quantities of heat, it is widely used as a coolant and vehicle for various cutting compounds, with the water-to-compound ratio varying with the machining task. See cutting fluid; semisynthetic cutting fluid; soluble-oil cutting fluid; synthetic cutting fluid.

point angle


point angle

Included angle at the point of a twist drill or similar tool; for general-purpose tools, the point angle is typically 118°.