January 01, 2015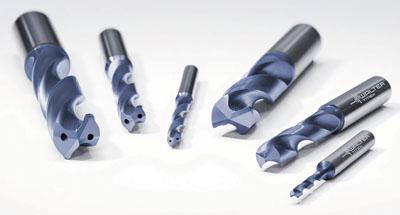 The tough, versatile, and cost effective new Walter Titex DC150 family of solid-carbide drills brings Walter quality and reliability to the gritty world of everyday machining, where older machines, small quantities, and frequent workpiece changes is the order of the day. DC150 is the first product offering in Walter's new "Perform" line of cost-effective yet high quality tooling solutions, to improve machining processes, especially for smaller lot production.
Typically, in most plants, alongside high-tech production lines you will find older machines with lower speeds often doing vital work. These are the machines that handle the one-offs, repair work, very small lots and other jobs that don't merit being scheduled on an advanced production line, yet constitute an important part of the work of the shop. Tools with high theoretical metalworking values would be hard to justify for this type of work, yet manufacturers still want quality and reliability. It is for these machines and this work that Walter developed the DC150.
The DC150, with diameter ranges from 0.12 to 0.63" (3 to 16mm) is a family of drills that deliver Walter quality and process reliability, yet do it at a price that makes sense for these applications. The DC150 can be universally used for all materials and in all industries, especially in general machining applications. The versatile new DC150 is offered as a 3xD variant with external cooling and a 5xD variant with internal cooling. Both variations are available in cylindrical shank (DIN 6535 HA) or Whistle Notch shank (DIN 6535 HE). Further addressing universal applications, the drill is used for material groups P, M, K, N, S, H, O.
Related Glossary Terms
metalworking


metalworking

Any manufacturing process in which metal is processed or machined such that the workpiece is given a new shape. Broadly defined, the term includes processes such as design and layout, heat-treating, material handling and inspection.

shank


shank

Main body of a tool; the portion of a drill or similar end-held tool that fits into a collet, chuck or similar mounting device.