November 30, 2022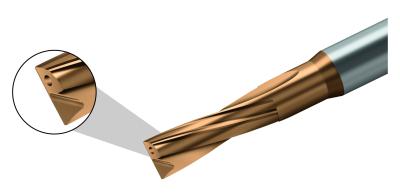 Walter has introduced the DC118 Supreme solid carbide drill, a new performance class for challenging applications. These "180° drills" differ from standard solid carbide drills in the high rigidity they provide against deflection, superior centering accuracy, and having four margins with corner chamfers, which enable excellent guidance in challenging applications.
The 180°-point angle makes the DC118 Supreme ideal for plunging into inclined or round surfaces because the drill is guided quickly on the margins and centered accurately. At the same time, burr formation remains extremely low. The protective corner chamfer on the cutting edges protects against rapid wear, which significantly increases tool life compared to drills without a protective chamfer. The excellent rigidity of the drill is a third feature which sets it apart from the competition.
Initially designed for 180°pilot drilling of deep bores on crankshafts, the current DC118 Supreme drill versions are now suitable for universal application with all materials and components. The drill has a unique fine-grained substrate with toughness. Additionally, the WJ30ET coating provides universal protection against tool wear in all material classes including steel, stainless steel, cast iron, non-ferrous material and super alloys (ISO Groups P, M, K, N, and S). WJ30ET is the same coating that is used on Walter's popular DC160 drills which are used in universal applications. Practical applications, in addition to flat bottoms, inclined entry or round surfaces, also include operations involving thin walls, counter-boring or chain drilling. In these applications, the DC118 Supreme excels with long tool life and a high degree of precision and process reliability. Walter offers the drill in the highest performance class with a diameter of 3–20 mm (including popular inch sizes) up to 2 × D as standard or as a special tool up to 5 × D via Walter Xpress.
The Walter lineup of products consists of three categories to tools. Supreme tools indicate the highest level of technology and performance available. Advance tools indicate product efficiently balanced between price and performance and Perform tools are products that provide an economical solution with focused importance on price.