May 28, 2019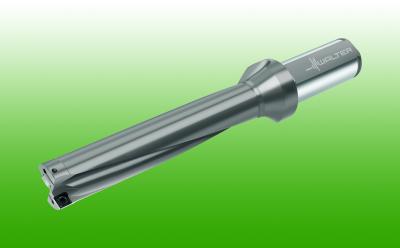 Walter has introduced the D4120, an indexable insert drill, (with up to 5 x Dc) that combines superior performance, enhanced precision and cost-effectiveness due to Walter's technological advancements.
The drill's list of features begins with a design that facilitates easy chip removal, process reliability and close hole tolerance through hardened and polished flute surfaces. Good finished surface quality and hole tolerance is achieved through a wiper cutting edge on the periphery insert, optimized chip flute design with continuous chip evacuation, as well as a coolant-through system (one per cutting edge) for improved cooling and fast chip removal.
Cutting costs are kept lower because of four cutting edges and the long tool life characteristics provided by Tiger·tec Silver grades. The versatile D4120, which employs inserts from the P484 family, is suitable for ISO material groups P, M, K, N, S in all major industries.
Related Glossary Terms
indexable insert


indexable insert

Replaceable tool that clamps into a tool body, drill, mill or other cutter body designed to accommodate inserts. Most inserts are made of cemented carbide. Often they are coated with a hard material. Other insert materials are ceramic, cermet, polycrystalline cubic boron nitride and polycrystalline diamond. The insert is used until dull, then indexed, or turned, to expose a fresh cutting edge. When the entire insert is dull, it is usually discarded. Some inserts can be resharpened.

tolerance


tolerance

Minimum and maximum amount a workpiece dimension is allowed to vary from a set standard and still be acceptable.

wiper


wiper

Metal-removing edge on the face of a cutter that travels in a plane perpendicular to the axis. It is the edge that sweeps the machined surface. The flat should be as wide as the feed per revolution of the cutter. This allows any given insert to wipe the entire workpiece surface and impart a fine surface finish at a high feed rate.