November 20, 2020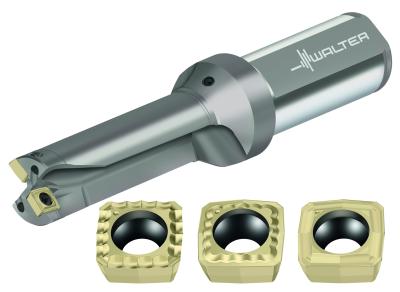 Walter has introduced the D3120, an indexable insert drill built to provide trouble-free drilling in virtually all conditions. It features square positive indexable inserts with four cutting edges, enabling it to reduce cost per cutting edge. Combined with the new Tiger-Tec® Gold PVD grade WSP45G, these new drills bring significantly higher tool life and cost savings for the user.
Available in diameter sizes ranging from 0.562-1.375 in. and 16-42 mm with 2, 3, 4 x Dc, the new drill delivers maximum process reliability with simple and efficient chip removal, two coolant channels and polished flutes. Superior protection against friction is provided by the D3120 hardened and polished surfaces. This combination of surface hardness and improved coolant flow results in reduced wear on the drill surface.
The new drill is easy to use since it has one indexable insert shape for both outer and inner seat, and a measuring collar for easy diameter identification. In addition to extension of inch sizes for the drill body, Walter has also introduced a new Tiger·tec® Gold PVD grade WSP45G for the P284 inserts. The new grade features significantly improved layer bonding, post-secondary treatment and Al2O3 crystal orientation leading to a vast improvement in tool life. The grade can be used universally for ISO material groups P (steels), M (stainless steels) and S (super alloys). The Tiger·tec® Silver grades WKP25S and WKP35S are also available for ISO material groups P (steels), M (stainless steels) K (cast irons), N (nonferrous) and S (super alloys). Additionally, WK10 grade for aluminums and WXP40, primarily for central inserts are also available. Torx Plus screws give it secure indexable insert clamping and high stability in all working conditions.