June 13, 2017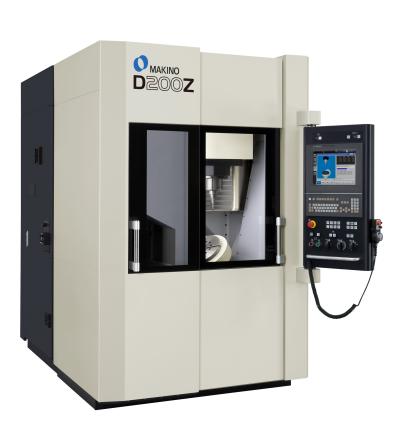 The increasing complexity of modern tool, die, mold and medical part designs call for a new level of 5-axis machine performance. The Makino D200Z 5-axis vertical machining center reportedly answers these challenges by combining the quickness of machine movements and accuracies with the latest software developments for high-precision, high-speed motion control. From roughing to high-speed finishing of multifaceted, contoured 3-D geometries, the D200Z boosts productivity with the most competitive processing capabilities for complex dies and molds typically found in the automotive, injection molding, packaging, medical and optical markets.
"With mold manufacturers strained for capacity and challenged to keep pace with new design changes, all while minimizing costs, the need for high-performance 5-axis machining has never been more critical," said William Howard, vertical product line manager at Makino. "The speed and precision of the D200Z supply a unique foundation for responsive high-speed cutting and outstanding surface finishes that reduce or eliminate handwork. Its 30,000-rpm spindle and integral direct-drive table provide quick, precise, full 5-axis machining. All of this capability is tied together with Makino's proprietary SGI.5 motion control software for the highest degree of accuracy and quality in the blends and matches of intricate surfaces and 3-D accuracy requirements typical of today's die, mold, medical and intricate-geometry components."
Designed with an integral chuck to maximize work-zone volume and load capacity, the D200Z accommodates workpiece sizes up to 300mm in diameter and 210mm tall with weight up to 75 kg. The X, Y and Z axes (350mm, 300mm and 250mm travels, respectively) provide swift movement with rapid traverse and cutting feedrates of 60m/min. The D200Z has also adopted a unique, lightweight B-axis tilting structure with 180 degrees (0 to +180) of tilt capability at 100 rpm. Both the B-axis and rotational C-axis (360 degrees continuous at 150 rpm) feature direct-drive motors for agile, accurate, high-speed, responsive angular and rotational operation.
The design of the D200Z packs industry-leading speed and precision into a compact unit (1500mm wide by 2220mm deep) for efficient use of floor space. All machine elements and peripheral equipment are strategically located within the main body of the machine to limit the overall machine footprint. Both the standard 20-tool capacity automatic tool changer (ATC) and the optional 40-tool ATC fit within the same machine floor space, enabling companies to expand capability without loss of floor space.
Wide base castings and core-cooled ballscrews serve as a base platform for all other machine components, enhancing overall process stability. The machine's 30,000-rpm, HSK-E50 spindle is designed with a high-tech spindle core and jacket cooling system to tightly control thermal growth, deflection and vibration during high-speed machining operations. As a result, the D200Z extends tool life and has exceptional surface finishes even in applications requiring fine tool blends and matches.
An integrated pallet chuck reinforces the stiffness and rigidity of the machine tool, all while ensuring efficient workpiece changeover speed and full usage of work zone and workload capacities. Additionally, this design has a common pallet interface that can be readily integrated into a variety of automated cells and systems prevalent in today's tool, die and mold shop environments.
The D200Z can also be configured with a graphite machining package to provide high-speed, exceptionally accurate, and very productive, 5-axis production of graphite electrodes.
The D200Z is equipped with Makino's powerful yet intuitive Professional 6 (Pro6) control. With streamlined screen layouts, operator assistance features and new machine functions, Pro6 boasts a seamless interface for operators to maximize productivity.
Included within the Pro6 control is Makino's proprietary, next-generation Super Geometric Intelligence (SGI.5) software—developed specifically for high-feedrate, tight-tolerance machining of complex 3-D contoured shapes involving continuous tiny blocks of NC data. Using a combination of highly refined AC digital servos and proprietary software, SGI.5 enables the machine to feed at rates faster than standard CNC systems while maintaining high accuracy. Its high-resolution, 3 million pulses per revolution (PPR) feedback system ensures that the servo system operates at optimum performance during execution of the toolpath. Depending upon the specific geometry of the application, SGI.5 yields 20 to 60 percent faster cycle times while maintaining accuracy and surface finishes.
A Makino proprietary data center offers easy, flexible program and data management, and enhanced networking capability. The data center is the single source for all files on the machine and network, able to run directly from memory, internal/external card, full direct numerical control (DNC) or from a network.
Also featured on the D200Z is Makino's proprietary Collision Safe Guard technology—a function that runs real-time interference checks to avoid spindle crashes. By combining on-board machine geometry models with workpiece, fixture and tooling data input by the user, Collision Safe Guard is able to predict and stop the machine prior to collision, protecting investments in the machines, fixture, tooling and workpiece.