October 29, 2022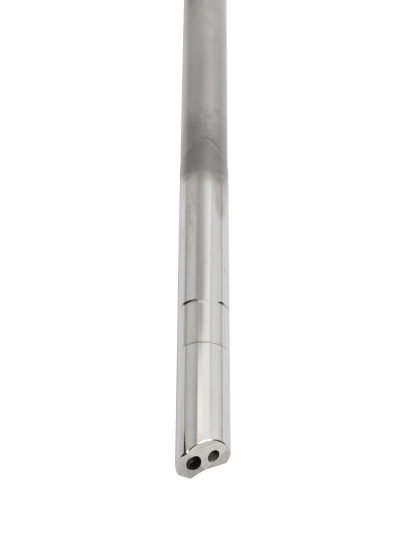 Star SU, part of the Star Cutter family of companies, has announced its new Custom-Designed Double Contour Single Flute Gundrill with an extended carbide length head feature. This special tool design has proven to reduce tool drift for the length of the cut, providing excellent TIR readings from entry of the part to the exit.
The machining improvements are achieved by a special cutting drill contour with an added rear contour configuration that acts like a guide pad while the drill remains in the bushing, keeping the tool on location. Once the drill is in the cut, these guide pads continue to force the tool to cut a straight path for the remainder of operation.
In a case study involving the machining of 36.0" DOC holes in Ti6AL4V (Titanium Grade 5), with the part being drilled from both sides and the hole meeting in the middle, the special-design Star SU Single Flute Double Contour Gundrill achieved an average mismatch at the intersection of only .005" and average drift/inch of .00003", as compared to .036" mismatch and .0020" drift achieved by a standard single flute gundrill. In addition to titanium, these drills are also successful in machining cast iron, aluminum, stainless steel, Inconel, and 4140/4150V steels.
This special-design contour technology is also available in the following Star SU product lines:
Single flute high performance gundrills
Solid carbide single flute gundrills
Two flute two hole milled style gundrills
Related Glossary Terms
bushing


bushing

Cylindrical sleeve, typically made from high-grade tool steel, inserted into a jig fixture to guide cutting tools. There are three main types: renewable, used in liners that in turn are installed in the jig; press-fit, installed directly in the jig for short production runs; and liner (or master), installed permanently in a jig to receive renewable bushing.

gundrill


gundrill

Self-guided drill for producing deep holes with good accuracy and fine surface finish. Has coolant passages that deliver coolant to the tool/workpiece interface at high pressure.

total indicator runout ( TIR)


total indicator runout ( TIR)

Combined variations of all dimensions of a workpiece, measured with an indicator, determined by rotating the part 360°.