September 13, 2018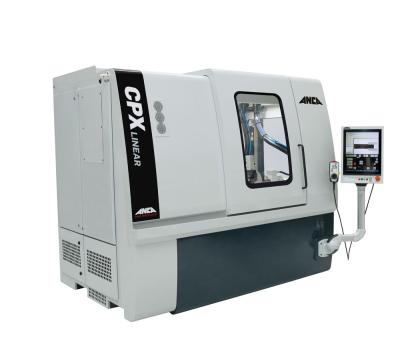 The CPX Linear has a large working envelope and powerful grinding spindles to achieve high precision and productivity for blank preparation. Using the pinch peel method of grinding, it offers the same strength, rigidity and thermal stability expected from an ANCA tool grinder.
Simon Richardson, product manager at ANCA, said: "We have taken the best aspects of our technology to build a fantastic machine. For example, our specially designed polymer concrete base provides the upmost stability in our grinding process so we took that and used it in the CPX Linear model.
"We are known for our ongoing dedication to research and commitment to ensure our technology is surpassing our customers' needs. This is another major milestone in that approach, providing a complementary machine for the full grinding process. What can I say, our customers asked and we listened - designing our own blank preparation machine."
Features:
High-powered roughing spindle ensures high-volume stock removal, enabling short cycle times and high productivity.
Polymer base (ANCAcrete) has excellent thermal stability and vibration damping properties, delivering grinding process stability.
LinX linear motors enhance precision and performance.
BlankX software provides ease of use and programming flexibility.
ANCA Motion Machine Control System – AMC5 CNC and AMD5X servo-drives provide all the computing power needed for submicron motion control for high accuracy.
ANCA Motions AR300 low-cost robot loader for automated loading of tool blanks is an option.
Quick setup times to achieve greater efficiencies.
The company's LinX linear motor technology for axis motion (X, Y and V axes), in conjunction with linear scales, enhances precision and performance. Specially designed for a lifetime of operation in harsh grinding environments, the LinX motors have a cylindrical magnetic field, which means there is no additional down force on the rails or machine base.
With no temperature variations (meaning no need for a separate chiller unit), and being sealed to IP67, there is minimal wear and tear so that the machine accuracy remains over the lifetime of the machine. The LinX linear motor has high axis speed and acceleration, leading to reduced cycle times while maintaining a smooth axis motion.
CPX Linear capabilities:
With a peak power of 43Kw (58 HP) the grinding spindle for roughing uses a 250mm-dia. (10") wheel, ensuring high-volume stock removal. This high-powered spindle removes the need for removing material in multiple passes, which means shorter cycle times and higher productivity.
Finishing spindle uses a 150mm (6") diameter wheel supplying a peak power of 9.7Kw (13 hp) for optimal finish grinding operations.
Large working envelope with an overall blank length of 360mm (14.1") and a maximum diameter of 25mm (1") when manual loading.
Related Glossary Terms
computer numerical control ( CNC)


computer numerical control ( CNC)

Microprocessor-based controller dedicated to a machine tool that permits the creation or modification of parts. Programmed numerical control activates the machine's servos and spindle drives and controls the various machining operations. See DNC, direct numerical control; NC, numerical control.

grinding


grinding

Machining operation in which material is removed from the workpiece by a powered abrasive wheel, stone, belt, paste, sheet, compound, slurry, etc. Takes various forms: surface grinding (creates flat and/or squared surfaces); cylindrical grinding (for external cylindrical and tapered shapes, fillets, undercuts, etc.); centerless grinding; chamfering; thread and form grinding; tool and cutter grinding; offhand grinding; lapping and polishing (grinding with extremely fine grits to create ultrasmooth surfaces); honing; and disc grinding.

linear motor


linear motor

Functionally the same as a rotary motor in a machine tool, a linear motor can be thought of as a standard permanent-magnet, rotary-style motor slit axially to the center and then peeled back and laid flat. The major advantage of using a linear motor to drive the axis motion is that it eliminates the inefficiency and mechanical variance caused by the ballscrew assembly system used in most CNC machines.