July 02, 2021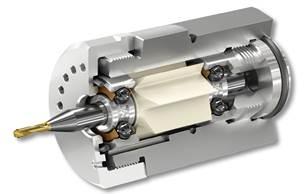 Many manufacturing companies and machine shops are striving to increase productivity of one area in particular: Micromachining.
WTO is offering a new and affordable solution for micromachining applications.
CoolSpeed® mini is a revolutionary patented ultra-high-speed spindle that can reach rotation speeds of up to 75,000 RPM. The spindle turbine is driven by coolant, cutting oil, or air mist. It is affordable, fits in standard tool holders for cylindrical tools, and is compatible with Milling Centers, Turning Centers, and Swiss Type lathes.
The patented spindle technology ensures continuous high precision. By its design, the cutting tool shank serves as the spindle shaft. As the result, the dynamic run-out is 4 microns or better. Bearings can easily be replaced by the customer with each cutting tool change. The CoolSpeed® spindle does not require any service.
The challenge in micromachining is how to achieve the required high rotation speeds. The majority of driven tools or spindles are mechanically-driven. Using a mechanically-driven device, it is impossible to reach the speeds recommended in the micromachining environment. This leaves machine shops searching for alternative solutions for their micromachining operations, or oftentimes, turning down jobs that require a significant amount of high-speed machining with micro tools.
CoolSpeed® is an affordable plug and play solution
CoolSpeed® offers a plug-n-play setup that makes installation fast and easy. To select the right high-speed Spindle for the application, it needs to be determined first which drive type is available and can be supported by the machine to run the spindle. CoolSpeed® can be driven by through coolant, oil or air mist. The coolant pressure ranges from 145-870 psi with a max. rotation speed of 75,000 rpm. When operating the CoolSpeed® unit with air mist, the pressure range is from 58-73 psi with a max. rotation speed of 55,000 rpm.
If through-spindle flow is unavailable, as it is often the case with swiss-type lathes, WTO offers CoolSpeed® mini models that can support a point-to-point coolant, oil, or air mist supply line connected directly to the high-speed spindle unit. Compressed air is commonly available in machine shops and can be easily utilized to convert an older piece of equipment into a high-speed machining center. The CoolSpeed® line of products has been designed with versatility in mind and can support nearly any machine configuration.
The customer Ar El Automatic and CNC Machining Ltd. is one great example of how the CoolSpeed® mini can improve throughput from your shop and extend your tool and machine life. By utilizing a CoolSpeed® mini in their swiss-type lathe to machine small electronic parts, Ar El realized a tool life improvement off 400% and a productivity improvement of 750%.
Micromachining can be affordable and also possible with existing machinery. The CoolSpeed mini line of turbine-driven spindles from WTO can be utilized in existing equipment and provides ultra-high rotation speeds at an affordable price point. If you have dismissed the possibility of adding micromachining to your shop's capabilities or previously turned down potential revenue due to micromachined part features, perhaps it is time to take another look at adding micromachining capability in your shop.