June 26, 2020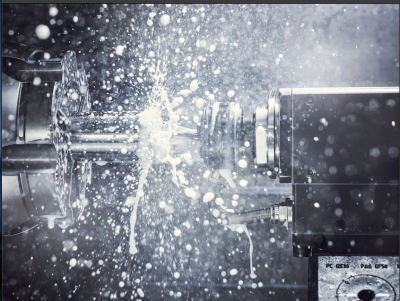 REGO-FIX USA has announced the extension of its reCool® line of coolant-through systems for live tooling on CNC lathes with reCool ERAX. Designed for driven tools with externally threaded nuts, this highly productive toolholding solution gives conventional lathes coolant-through capabilities in minutes with minimal loss (approx 10mm) of machining range or additional interference.
First developed as a space-saving solution for use with REGO-FIX floating chucks, ERA holders such as the ERA Zero-Z® and other ER collet holders with externally threaded nuts, the Hi-Q®/ERAX is ideal for maximizing the range of turning machines and minimizing the interference contour for larger parts and tighter machining envelopes. With reCool, driven tools and turning machines can easily be retrofitted for coolant- through functionality, enabling substantial improvements in tool life and productivity.
The reCool ERAX uses the patented reCool design to deliver coolant with a maximum pressure of 1,450 psi in live tooling applications with speeds up to 12,000 rpm. Equally well suited for emulsion and oil coolants, the system is currently available for ER collet sizes 16, 20, 25 and 32 to handle tools between 3-20 mm in diameter. Both through-tool coolant and peripheral cooling are possible using REGO-FIX DS/ER sealing disks and KS/ER coolant flush disks, respectively.
An affordable low-maintenance way to retrofit static or driven tooling systems with internal coolant capabilities, reCool makes process optimization simple. Reduced production time per piece, superior chip removal and compatibility with the wide range of REGO-FIX ER collets enable manufacturers to improve the performance of nearly any modern lathe. To learn more, take advantage of a free four-week trial of reCool at us.rego-fix.com/en/solutions/recool-er.