September 18, 2018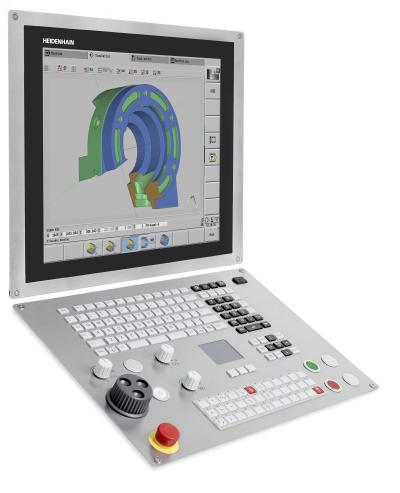 HEIDENHAIN says its top-of-the-line lathe control, the CNC PILOT 640, has been impressing customers for many years with its numerous advantages and is now available with even newer upgrades. Most notably, a new TURN PLUS feature is now standard on new purchases that allows the creation of a lathe program by the push of a button with up to 90 percent time savings.
The new versions of the control software also include other improvements such as added Functional Safety (FS) features and expansions that provide the machine operator and the machine tool builder with more benefits.
The CNC PILOT 640 contouring control is suitable for lathe applications of complex parts as it combines simple operation with reliable, high-quality series production. It allows 5-axis simultaneous machining and combined turn-mill operation, full surface machining with B-axis and counter spindle, as well as up to three channels for asynchronous multiple-side machining.
Multitouch operation allows swiping and zooming in and out, and high resolution 3D simulation graphics have been added. Machining operations with one or several setups (multiple-channel operation) can be programmed separately through structured programming. The maximum number of controlled axes and spindles has been increased to 24 using appropriate options.
The CNC PILOT 640 lathe control is available with two screen formats: 19"and 15.6" with up to 25 configurable fields. It also works with HEIDENHAIN's display handwheels HR 520 (FS) and the HR 550 FS radio handwheel system. New CFRCompactFlash memory cards and SIKs are also available.
For those interested in connected machining, the CNC PILOT 640 can be incorporated into such systems by utilizing HEIDENHAIN options Remote Desktop Manager (option 133) and StateMonitor for capturing machining data.
Related Glossary Terms
Rockwell hardness number ( HR)


Rockwell hardness number ( HR)

Number derived from the net increase in the depth of impression as the load on the indenter is increased from a fixed minor load to a major load and then returned to the minor load. The Rockwell hardness number is always quoted with a scale symbol representing the indenter, load and dial used. Rockwell A scale is used in connection with carbide cutting tools. Rockwell B and C scales are used in connection with workpiece materials.

computer numerical control ( CNC)


computer numerical control ( CNC)

Microprocessor-based controller dedicated to a machine tool that permits the creation or modification of parts. Programmed numerical control activates the machine's servos and spindle drives and controls the various machining operations. See DNC, direct numerical control; NC, numerical control.

lathe


lathe

Turning machine capable of sawing, milling, grinding, gear-cutting, drilling, reaming, boring, threading, facing, chamfering, grooving, knurling, spinning, parting, necking, taper-cutting, and cam- and eccentric-cutting, as well as step- and straight-turning. Comes in a variety of forms, ranging from manual to semiautomatic to fully automatic, with major types being engine lathes, turning and contouring lathes, turret lathes and numerical-control lathes. The engine lathe consists of a headstock and spindle, tailstock, bed, carriage (complete with apron) and cross slides. Features include gear- (speed) and feed-selector levers, toolpost, compound rest, lead screw and reversing lead screw, threading dial and rapid-traverse lever. Special lathe types include through-the-spindle, camshaft and crankshaft, brake drum and rotor, spinning and gun-barrel machines. Toolroom and bench lathes are used for precision work; the former for tool-and-die work and similar tasks, the latter for small workpieces (instruments, watches), normally without a power feed. Models are typically designated according to their "swing," or the largest-diameter workpiece that can be rotated; bed length, or the distance between centers; and horsepower generated. See turning machine.