July 15, 2019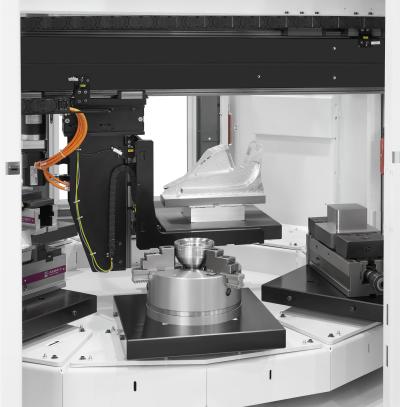 CNC machining centers from Chiron combine consistently high production quality, flexibility, low unit costs and short lead times for an optimal process. The addition of the Chiron Variocell Pallet automation cell enables the new high-efficiency FZ/DZ 16 series vertical machining center to produce small batches of a variety of workpieces in an even more productive and flexible way.
Variocell Pallet allows different raw parts to be clamped in one of 10 pallets mounted on a rotary table. The handling system guides one raw part after another to the machining center and removes the machined workpieces together with the pallet after the machining process is complete. A palletized part can also be machined while another is loaded into the 5-axis machining centers.
The Variocell Pallet can access the machining center work area with a transfer trolley, which is equipped with driven rollers and can be moved in three directions, avoiding inflexible rail-type systems. With minimal space requirements, the automation solution is always accessible to the operator and, can be loaded and unloaded manually.
The FZ/DZ 16 is not only available with Variocell Pallet, but also with the modular Variocell System, a robot-based automation solution adaptable to specific customer applications. With the individually configurable Chiron Variocell, users can significantly increase the efficiency of the Chiron machining centers. The Variocell System offers a variety of space-saving options to meet even the most demanding customer production requirements.

The new CellLine from the Chiron SmartLine portfolio is another automation highlight: CellLine allows the entire manufacturing cell, including robots, to be conveniently controlled via a single operating panel. CellLine can be equipped with a modern order management function alongside set-up and diagnosis functions for all assemblies. An internet-capable version is also available to enable remote access via the cloud and in several languages.
The integrated automation solution Variocell Uno, a compact robot cell, can be used to enhance the productivity of older machining centers. This solution combines a workpiece handling robot and a workpiece storage unit with space for up to 24 pallets within floor space of less than 1 square meter. The solution can be expanded by a variety of equipment options, such as measuring, light assembly, part marking and more or can be individually adapted to the needs of larger scale production in the Variocell System version.
Automation is gaining significant importance across different industries. That's why retrofits are an attractive and cost-efficient way for many customers to remain future-proof, according to the company.
Related Glossary Terms
centers


centers

Cone-shaped pins that support a workpiece by one or two ends during machining. The centers fit into holes drilled in the workpiece ends. Centers that turn with the workpiece are called "live" centers; those that do not are called "dead" centers.

computer numerical control ( CNC)


computer numerical control ( CNC)

Microprocessor-based controller dedicated to a machine tool that permits the creation or modification of parts. Programmed numerical control activates the machine's servos and spindle drives and controls the various machining operations. See DNC, direct numerical control; NC, numerical control.

machining center


machining center

CNC machine tool capable of drilling, reaming, tapping, milling and boring. Normally comes with an automatic toolchanger. See automatic toolchanger.