December 17, 2019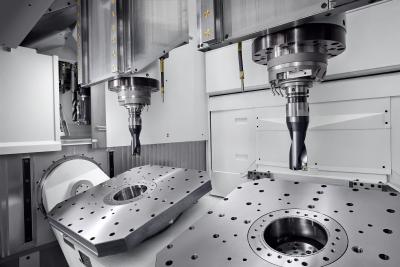 The Chiron FZ/DZ 25 vertical machining center series is for highly productive machining of complex, large-volume structural components for the automotive and aerospace industries.
With a spindle distance of 800 mm and spindle speeds to 20,000 rpm, the two-spindle DZ 25 P five-axis introduced at EMO 2019 is for double-spindle machining of large aluminum structural components with a work area up to 799 mm diameter per position.
The series of twin-spindle machines is for machining high-value components with a combination of high productivity, accuracy and flexibility, according to a company spokesman. Pallet size under each spindle is 630 mm x 630 mm. Up to 60 HSK63 tools can be assigned to each spindle with chip to chip time of 3.5 seconds.
Spindles travel independently of each other in the X and Z direction, cooperating smoothly with user-selected automation options. Travel in X, Y and Z are 800 mm, 1,100 mm and 800 mm, respectively. The highly dynamic machine offers rapid travel speeds of 120/75/75 m/min. and acceleration of 10/10/15 m/sec.2.
Operation and loading take place on separate sides of the machine which is a major advantage for processing large workpieces. This allows optimal access to the working area and a good view of the process – even if the machining center is supplemented by a pallet changer for workpiece changes during machining. Automation options available from Chiron for the machine include a robot, pallet changer and pallet changer plus robot. The machine can also be direct loaded by gantry in high-production systems.
The machining centers are operated via the Chiron TouchLine control system in conjunction with Siemens or Fanuc controls and the large panel on which the machine status can be monitored at any time. The 25 series is prepared for the Chiron SmartLine modules RemoteLine, DataLine and ProcessLine –ensuring an additional productivity boost.
The 25 series also requires only a small amount of floor space, thanks to its compact design. Its optimal dynamics make it a compelling offering in this competitive environment, the company said.
Related Glossary Terms
centers


centers

Cone-shaped pins that support a workpiece by one or two ends during machining. The centers fit into holes drilled in the workpiece ends. Centers that turn with the workpiece are called "live" centers; those that do not are called "dead" centers.

machining center


machining center

CNC machine tool capable of drilling, reaming, tapping, milling and boring. Normally comes with an automatic toolchanger. See automatic toolchanger.