June 08, 2022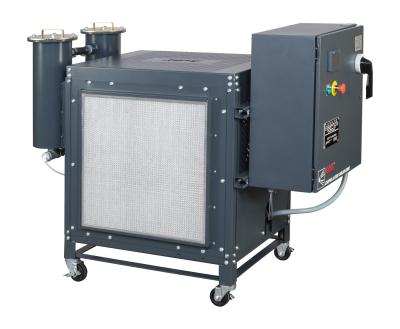 LNS Chipblaster CC 34K SA Chiller reliably maintains optimum temperature of CNC machine coolant and cutting tools to ensure machining accuracy, extend tooling life and improve throughput. Newly enhanced chiller features a robust industrial style compressor for greater efficiency.
Product details that provide reliability, long-life and ease of operation include:
User-friendly touch screen HMI that makes it easy for operators to change temperature settings and monitor all activities
High efficiency scroll compressor that reduces vibrations for smoother, quieter operation
Parallel, double cartridge filters that enable 10- or 5-micron coolant filtration
Factory sealed, leak-free construction requiring no system recharge
Multidimensional casters for ease of installation and maintenance
Related Glossary Terms
computer numerical control ( CNC)


computer numerical control ( CNC)

Microprocessor-based controller dedicated to a machine tool that permits the creation or modification of parts. Programmed numerical control activates the machine's servos and spindle drives and controls the various machining operations. See DNC, direct numerical control; NC, numerical control.

coolant


coolant

Fluid that reduces temperature buildup at the tool/workpiece interface during machining. Normally takes the form of a liquid such as soluble or chemical mixtures (semisynthetic, synthetic) but can be pressurized air or other gas. Because of water's ability to absorb great quantities of heat, it is widely used as a coolant and vehicle for various cutting compounds, with the water-to-compound ratio varying with the machining task. See cutting fluid; semisynthetic cutting fluid; soluble-oil cutting fluid; synthetic cutting fluid.

parallel


parallel

Strip or block of precision-ground stock used to elevate a workpiece, while keeping it parallel to the worktable, to prevent cutter/table contact.