July 15, 2016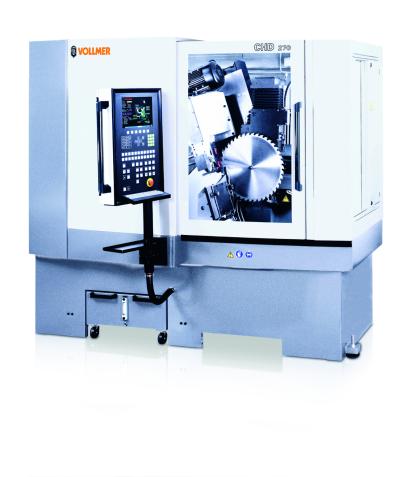 Vollmer of America's CHD270 is a sharpening machine with 8 CNC-controlled axes and a measurement device, and it's intended for the automatic machining of carbide-tipped circular saw blades with various diameters and tooth geometries on face and top. Circular saw blade outer diameter is 80mm to 840mm. As an option, the company offers preparation for connection to a ND robot system.
Related Glossary Terms
circular saw


circular saw

Cutoff machine utilizing a circular blade with serrated teeth. See saw, sawing machine.

outer diameter ( OD)


outer diameter ( OD)

Dimension that defines the exterior diameter of a cylindrical or round part. See ID, inner diameter.

sawing machine ( saw)


sawing machine ( saw)

Machine designed to use a serrated-tooth blade to cut metal or other material. Comes in a wide variety of styles but takes one of four basic forms: hacksaw (a simple, rugged machine that uses a reciprocating motion to part metal or other material); cold or circular saw (powers a circular blade that cuts structural materials); bandsaw (runs an endless band; the two basic types are cutoff and contour band machines, which cut intricate contours and shapes); and abrasive cutoff saw (similar in appearance to the cold saw, but uses an abrasive disc that rotates at high speeds rather than a blade with serrated teeth).