November 01, 2014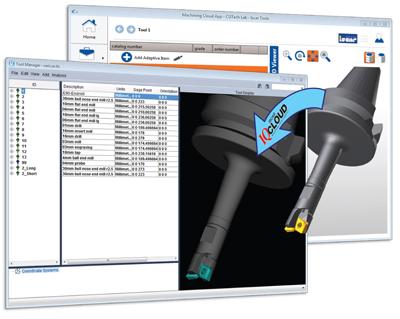 CGTech has announced that as a result of the CGTech-MachiningCloud-Iscar partnership, VERICUT users can directly download Iscar tool assemblies and use it within VERICUT software with minimal effort.
Most leading cutting tool manufacturers now make 3D solid model data available and VERICUT can read in this model data for use in the simulation process. Iscar's MachiningCloud application, named IQCloud, increases its customers' productivity by offering instant access to the company's complete and up-to-date cutting tool data, without the hassle of searching through printed catalogues and various websites to find ideal tooling and then manually entering the data into the shop's software. Tool assemblies can be grouped into "jobs," and the complete job can be imported into VERICUT's tool manager with only a few clicks.
"The accuracy of the data input into VERICUT directly affects the output. So, an accurate model of the cutting tool and holder is required for the effective and accurate simulation of the machining process," said CGTech Product Marketing Manager Bill Hasenjaeger. "We always look for simple ways to reduce the time to setup VERICUT and ensure it correctly mimics the operations. Having direct access to the Iscar cutting-tool product data through the MachiningCloud App reduces the frustration and time associated with obtaining the tooling information needed."
VERICUT CNC machine simulation, verification and optimization software simulates all types of CNC machining, including drilling and trimming of composite parts, waterjet, riveting, robots, mill/turn and parallel kinematic/hexapods. It operates independently, but can also be integrated with leading CAM systems.