January 14, 2023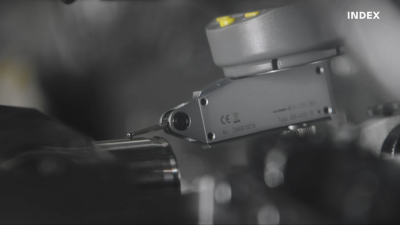 INDEX has announced the launch of its new CenterMaster accessory. As part of the company's sustained investment in R&D focused on streamlining the setup and changeover process for CNC multi-spindle lathes, CenterMaster reduces the time needed to align a drill by up to 90%.
Previously, center alignment of a drill required specialized knowledge by the operator and a challenging, manual process that could take up to 30 minutes per holder. With CenterMaster, the user simply clamps a radio dial gauge into the workspace and sets it to the quill. The gauge and machine wirelessly communicate, automatically adjusting the holder along the X axis. The system then guides the operator through adjusting the Y axis via the machine's touchscreen display.
The CenterMaster system allows operators with no specialized knowledge or experience to set up a drill in 2-3 minutes. Additionally, it provides a repeatable accuracy of <5μm.
"Over the past several years, we have introduced multiple innovations to make CNC multi-spindles more flexible," says Cris Taylor, president & CEO of INDEX. "We had already taken a lot of the time out of setups and changeovers via presetting and our quick clamping system with W-serration locating. CenterMaster eliminates another time-consuming aspect of setups, so that customers can truly optimize their machine utilization."
Related Glossary Terms
computer numerical control ( CNC)


computer numerical control ( CNC)

Microprocessor-based controller dedicated to a machine tool that permits the creation or modification of parts. Programmed numerical control activates the machine's servos and spindle drives and controls the various machining operations. See DNC, direct numerical control; NC, numerical control.