February 04, 2020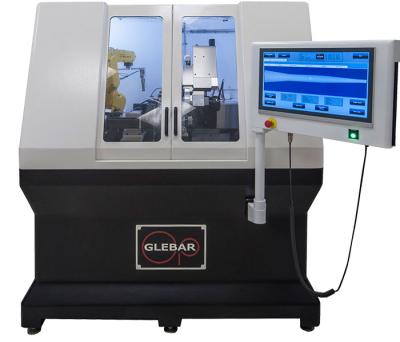 Glebar Co. announces its new CAM.3 micro grinder. The CAM.3 represents the next generation in Glebar's 68-year history of providing precision grinding solutions to the medical device industry. Designed from the ground up, the CAM.3 features faster speeds and feeds, larger diameter wheel, increased capability and connection to the IIoT.
Applications such as medical guidewires with flats, multiple tapers, hex shapes and other complex geometries can be easily manufactured on the CAM.3. The CAM.3 offers additional capability suited for applications such as K wires, bone pins and other orthopedic and sports medicine implants, instruments and single use disposable products.

The CAM.3 can accurately grind lengths ranging from 0.005" to 0.375" in diameter. The 16" grinding wheel is mounted on a servo spindle with robust ABEC 7 spindle bearings with a capability of reaching over 20,944 surface feet. It can be fitted with a 6-axis robot, within the enclosure, providing additional axis and automated capabilities. In addition the work head can also be tilted up to 5 degrees to grind sharp corners and true threads. The dual carriage linear motor feed system powers the collets which can spin up to 250 RPS for improved grinding performance.

Built on a 6,500-lb. mineral cast base for vibration dampening, the CAM.3 can easily produce parts, repeatedly, to submicron accuracy. The positioning of the work wheel, main spindle and the collets can be programmed using the touchscreen HMI which features a large 16:9 aspect ratio. IIoT enabled sensors can be built in to monitor temperature, pressure and vibration of key mechanical components.

The enclosure includes safety interlocks and the machine is CE Certified for the European market. The base includes embedded air and oil lines. The electrical enclosure includes a built in AC cooling system. The CAM.3 comes with MTConnect capability, is OPC UA compliant, and is ready for Industry 4.0. The CAM.3 controller can easily be expanded to add peripherals such as loaders, inspection gages, and other automation types.

"Glebar's technology has been a vital part of the medical device industry for over 68 years," said John Bannayan, chief technical officer at Glebar. "The expanded features of the CAM.3 will offer designers an incredible set of fabrication capabilities for medical guidewires, orthopedic parts, dental components, and other small precision parts across a number of industries."