February 01, 2015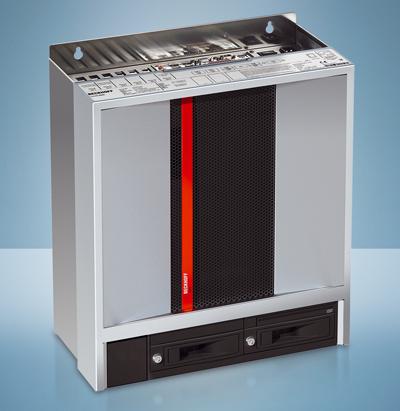 Beckhoff Automation has introduced a new industrial server product line that enables "many-core machine control." The new C6670 industrial server from Beckhoff represents one of the most powerful controllers ever to reach the industrial market. This top-performance PC-based solution can be equipped with 12, 24, or 36 processor cores, and its memory can be expanded from 64 GB up to 2 TB. The immense computing power within the C6670 series can be most effectively used when each individual core is efficiently leveraged with the TwinCAT 3.1 automation software platform from Beckhoff.
Decades of successful applications in the field have demonstrated that centralized control system architectures have numerous advantages over distributed methodologies. Modern production lines and high-performance, standalone machines incorporate ever increasing functionality with ever shorter cycle times, necessitating increasingly powerful, central control systems. The Beckhoff "many-core control" concept as demonstrated in the C6670 industrial server line personifies the company's consistent and long-term philosophy of centralized control with integrated Scientific Automation. This approach means that in addition to a machine's control functions, PLC, motion, robotics, and CNC – further functions such as advanced measurement technology, condition monitoring, and visualization are all integrated into one powerful software package, TwinCAT, and executed on one powerful PC-based controller. With TwinCAT 3.1 it is possible to optimally utilize all available processor cores by intelligently distributing individual control tasks among them. With the development of the C6670, Beckhoff delivers the benefits of many-core technology to machine control projects. Previously existing limits all but disappear for users' application ideas, which are freed by a dramatically faster and more powerful machine control platform.
The C6670 is the first industrial server offered from Beckhoff Automation. In addition to computationally-intensive control technology, the C6670 can also be used, for example, in complex applications such as highly articulated robotics and advanced image processing. Designed for control cabinet installation, the C6670 server incorporates two Intel Xeon processors, each with 6, 12, or 18 cores, working together on a motherboard with two Gigabit Ethernet controllers and a powerful graphics card. Apart from the massive performance levels delivered by up to 2 TB DDR4 RAM, there are four PCIe x16 Gen III slots, one PCIe Gen III x 8 slot and one PCIe Gen II x 4 slot for multiple interface cards and maximum flexibility.
Related Glossary Terms
computer numerical control ( CNC)


computer numerical control ( CNC)

Microprocessor-based controller dedicated to a machine tool that permits the creation or modification of parts. Programmed numerical control activates the machine's servos and spindle drives and controls the various machining operations. See DNC, direct numerical control; NC, numerical control.

robotics


robotics

Discipline involving self-actuating and self-operating devices. Robots frequently imitate human capabilities, including the ability to manipulate physical objects while evaluating and reacting appropriately to various stimuli. See industrial robot; robot.