July 01, 2015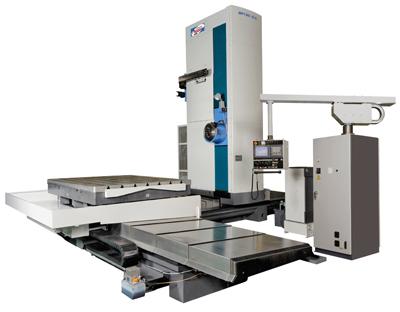 SNK America Inc. says the BP130-3.5 gives you everything you'd expect in a world-class Japanese built boring mill--superb design, robust construction and premium-grade components—but at a cost comparable to our competitor's 3.0 models.
The generous work envelope and straightforward design provide for efficient work throughput. It features heavy-duty, high quality cast iron construction throughout. Extra-wide solid boxways easily support large workpieces. Oversize ballscrews on all linear axes are precision ground and finished to deliver consistent, precise positioning even under the most demanding machining conditions.
The BP130-3.5 features a full rotary table size of 62.99 inches x 86.6 inches with a maximum workpiece load of 22,000 lbs.
X and Y axes travels are 137.80 inches x 98.43 inches respectively. The 5.1 inches boring spindle travels within the 8 inches milling spindle to provide a full 27.5 inches stroke for maximum machining flexibility. W-axis thermal growth compensation provides optimum accuracy. The X-axis table is of a single piece casting utilizing the accuracy and stability of a fully supported cast iron base. The B-axis is fully supported by a worm and wheel construction with scale feedback. The large work table has 7 T- slots to simply work fixturing.
Other features include an ATC with standard capacity of 60 tools (90, 120 optional), standard 35HP spindle motor and micro-filtration and chip conveyor system with skimmer & chip conveyor and more.
Optional features available on the BP130-3.5 include right angle head, angular attachment, facing head, U-axis CNC-controlled and pallet changer options.
The BP Series of planer type boring mills is available in four models including the BP130-3.0 with X and Y-axis travel of 118.11 inches and 78.74 inches respectively up to the largest model, the BP130-5.0 with X and Y-axis travel of 196.48 inches and 98.43 inches.