December 12, 2011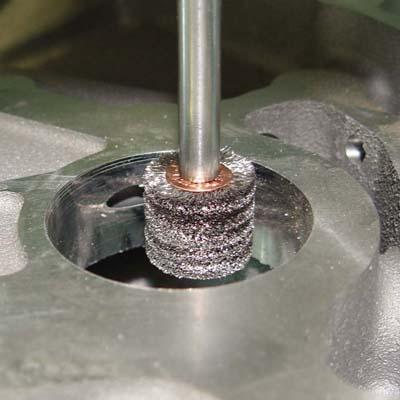 Bore-Rx brushes from Weiler Corp. are engineered for deburring internal part features in CNC machining centers. By using Bore-Rx brushes, off-hand deburring is eliminated, resulting in a decrease of direct labor content and an increase in part-to-part consistency. Bore-Rx brushes are superior to other internal brush deburring tools such as tube or "bottle" brushes.
Tube brushes have several shortcomings, the most notable of which is their lack of filament density, and this limits their aggression and tool life. Bore-Rx brushes, however, reportedly have 10 times more filament density, allowing them to remove even well-attached burrs and boast a greatly extended lifespan. Further, the construction of tube brushes prevents them from being operated at high spindle speeds, and they are prone to untwist when used in reverse rotation. Bore-Rx brushes address these shortcomings by offering the capability to operate at higher RPMs and in both directions of spindle rotation.
Bore-Rx brushes can be mounted directly into any standard 3/8" end mill holder or collet, and are available in sizes ranging from ¾" to 4" in diameter and with crimped-wire or abrasive-nylon filaments. The abrasive-nylon brushing tools in the Bore-Rx line now feature Weiler's exclusive Burr-Rx R ceramic-grain filament technology to remove the heaviest burrs from cross-hole intersections and other internal edges, and they are effective on tool steel, stainless steel, high-nickel alloys, and other hard-to-deburr materials.