January 12, 2012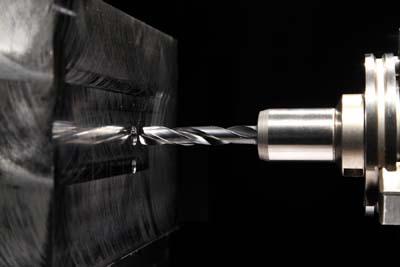 Due to an optimized nanostructure that creates a balance of improved hardness, toughness, and resistance to residual stresses, BALINIT PERTURA from Oerlikon Balzers stands out as a universal coating solution for high-performance solid-carbide drills in a variety of drilling applications.
Whether your need is for drilling holes in steel, stainless steel, or cast iron; or your part requires specialized bit geometries (deep hole, micro, step drilling, internal cooling, or external cooling), BALINIT PERTURA improves abrasion resistance and extends tool life at both moderate and high speeds. Up to now, cracks in multilayer coatings tend to wander along boundary lines between layers approximately 100 to 400 nanometers thick. With a much tighter nanolayer construction of between 5 to 20 nanometers thick, crack propagation is significantly reduced, delivering notably longer tool life, even in dry drilling or deep-hole drilling applications.
Improved abrasion resistance also means smoother chip evacuation, not only in tough materials or non-standard holemaking tasks, but also at reduced tool and machine stress levels, extending the life and performance of expensive capital equipment. Productivity tests in steel at both moderate and high drilling speeds showed increases of between 20 and 40 percent in the number of holes. In cast iron, machining time to produce 500 holes was cut in half.
Improved performance is joined by increased economy when reconditioning is added to the equation. Returning precision drilling tools to as-new conditions over a number of cycles extends cost efficiency. Two recoating options are possible: In decoating, the worn coating is removed from the substrate, after which the new coating is applied to the appropriate surfaces. Overcoating, the less expensive alternative, consists in regrinding the worn tool only at the functional surfaces, after which the entire drill is coated again.
Related Glossary Terms
hardness


hardness

Hardness is a measure of the resistance of a material to surface indentation or abrasion. There is no absolute scale for hardness. In order to express hardness quantitatively, each type of test has its own scale, which defines hardness. Indentation hardness obtained through static methods is measured by Brinell, Rockwell, Vickers and Knoop tests. Hardness without indentation is measured by a dynamic method, known as the Scleroscope test.