September 29, 2016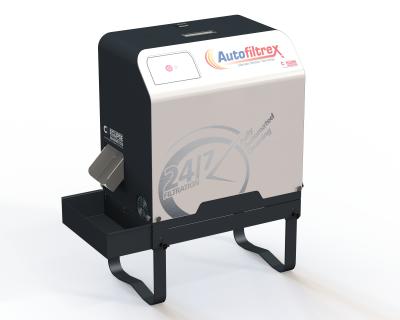 Autofiltrex, the latest addition to Eclipse Magnetics' range of magnetic filtration systems, is a fully automated sub-micron filtration device designed to ensure ultra-polished fluids on a 24/7 basis.
The Autofiltrex is said to be effective in the vast majority of general machine tool and steel finishing operations, such as grinding, milling and turning machines, and is therefore a solution for those requiring a sub-micron performance filter to improve product quality.
As a fully intelligent filter, the Autofiltrex works offline with no interruption to the manufacturing process, and can be left on to polish fluid even when the machine itself is not in use. This 'plug and play' device effectively prevents the build-up of contamination in the tank, facilitates the simple reclamation of contamination, and extends fluid life by considerable margins. With virtually zero running costs and no consumables required, the filter features a large collection/contamination tray, and collapsible legs. The Autofiltrex also has the ability to interface with controls on CNC machine tools.