October 16, 2019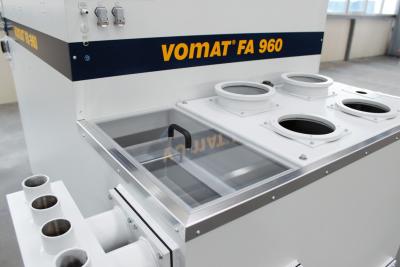 Finely filtered grinding oils in cutting tool manufacturing are an important key to more quality and efficiency in production. Tool manufacturers who rely on the right technology and competence of their fine filtration equipment manufacturer make optimal use of the many advantages offered by efficient grinding oil filtration.
Metal abrasion, dirt and decomposing materials due to thermal influences contaminate grinding oils during the manufacturing of precision tools. The fluids could not be used for long periods without high performance ultrafine filtration. Temperature and foreign particles would compromise process reliability and quality. For this reason, ultrafine filtration plays a key role in the overall machining process for tool manufacturers in terms of cost and quality, as do premium quality blanks, state-of-the-art grinding technology and high-precision grinding wheels.
Vomat, Treuen, Germany, specializes in filtration, and Steffen Strobel, the company's technical sales manager, says, "Filtered grinding oils are an important component in the value chain and should therefore not be underestimated. The longer the finely filtered grinding oil can remain in the system in almost fresh oil quality, the more benefits the tool manufacturer will gain in respect to increased quality and reduced costs."
For example, the fewer particles in circulation, the lower the abrasion of the grinding wheel during tool grinding. The grinding tools last longer and more drills or cutters can be ground with one disc. In addition, the downtimes of machines are reduced because the grinding wheels and the grinding oil does not have to be changed as often.
Strobel said: "With Vomat technology, the tool manufacturer is on the safe side. Because our high-quality pre-coat filters, operate in full flow filtration and separate the dirty and clean grinding oil 100 percent. This provides nearly fresh oil quality in the 3 to 5 µm range (Nas 7) over a very long period of time. Long service life of grinding wheels as well as high process reliability, and operational stability of the entire manufacturing system are the rewards. In addition, the tool manufacturer saves grinding oil costs and minimizes drag-out losses thanks to innovative technology."
Depending on production requirements, Vomat supplies stand-alone filtration systems, as well as large industrial central systems, and integrates them precisely into the respective production workflow. Different filter, cooling and disposal technologies ensure economic and ecological success and harmony.
One example is the Vomat FA 960 (dimensions: 2500mm L x 1400mm W x 1500mm W), with an oil capacity of approximately 2,400 liters and 960 liters/minute filtration capacity. Depending on the amount of dirt, the high-performance filters are automatically back-washed as required, which has a positive effect on the filter durability and the energy usage. The high-precision temperature controls guarantee +/-2 K accuracy, which guarantees that the medium has a long service life. It also prevents temperature related expansion of machine components and the workpieces to be ground. In addition, there is an intelligent, fully automatic recycling system for the carbide sludge, which has a residual moisture content of around 5 to 10 percent: The patented "Sedimentator" disposes the sludge directly into a disposable transport container ready to be picked-up by the recycling companies.
Strobel said: "Tool manufacturers are confronted with the high quality demands in today's markets. Drills, milling cutters, reamers and threading tools, etc. must be manufactured within extremely narrow tolerances. Optimally filtered grinding oils are an important mosaic piece in the overall manufacturing process and contribute to the fact that high quality micro to extra - large dimension tools can be ground economically."