August 08, 2023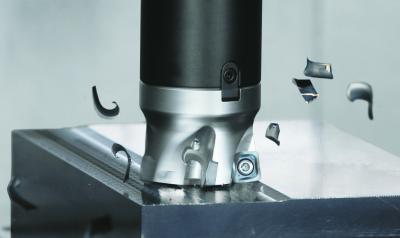 Kyocera introduces the PR18 Series, an innovative lineup of indexable milling inserts meticulously crafted to elevate the user's machining experience across Kyocera's most popular milling lines.
At the core of this series lies Kyocera's all new, next-generation PVD coating technology. Designed to propel production runs forward, this groundbreaking coating takes milling performance to new heights. With PR18 Series inserts, machinists can eliminate frequent tool replacements and costly downtime, as Kyocera's cutting-edge coating brings an unmatched level of longevity to milling operations in a large variety of workpiece materials.
The PR18 Series incorporates proprietary MEGACOAT NANO EX coating technology, setting a new standard for wear resistance and durability. By using a unique double lamination technique with special nano multi- layers for abrasion, wear, and heat resistance, this coating surpasses conventional grades, delivering superior performance and extending the lifespan of the tools.
The key to the PR18 Series' success lies in its ability to protect against wear and abrasion like no other. With excellent oxidation resistance and a higher coating toughness, PR18 suppresses crack growth and remains tougher longer. This results in prolonged tool life, reducing the need for frequent tool changes in the middle of your production runs. With enhanced wear resistance and durability, milling operations can be extended longer while maintaining precision and surface finish, ultimately improving productivity and efficiency.
Benefits:
Kyocera's nano layer coating technology provides increased tool life

Superior abrasion, fracture, heat, and oxidation resistance

Extended milling operations eliminating frequent insert

changes/indexing

Excellent durability
Features:
Proprietary MEGACOAT NANO EX multi-layer structure with two unique nano layers

AlCr-based coating layer with excellent abrasion resistance

AlTi-based coating layer with excellent heat resistance

PR18 grades available across more than 16 popular milling series cutter lines

Multiple cutting edges per insert
Applications:
PR1825 – Recommended for Steel (wear resistance oriented)

PR1835 – Recommended for Stainless Steel and steel (stability oriented)

PR1810 – Recommended for Cast Iron

Compatible cutter series include various milling operations (facing, slotting, ramping, helical milling,

shouldering, etc.)