March 04, 2020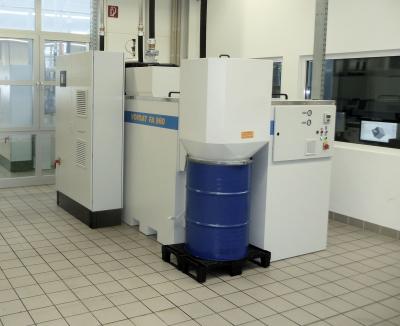 When grinding carbide and HSS tools in large industrial volumes, large filter and central systems for cleaning contaminated grinding oils are worthwhile in several ways, like the filtration systems from filter specialist VOMAT in Treuen, Germany. They offer ultrafine filtration systems that can be individually customized to customer-specific production conditions.
The VOMAT filter technology separates dirty and clean oil 100% by full-flow filtration and, thanks to modern high-performance pre-coat filters, provides the system with grinding oil in the quality class NAS 7 (3-5 µm) over a long period of time.
VOMAT systems can be used to rinse and filter as required. The back flushing cycles are regulated depending on the degree of contamination of the filter elements. This allows VOMAT to react precisely to customer-specific cutting volumes. The disposal volume is reduced to a minimum with the lowest drag-out loss. Steffen Strobel, technical sales manager at VOMAT, said, "The long service life of the cooling lubricant with an optimum degree of cleaning leads to longer service life of the grinding wheels, lower maintenance required for the equipment and reduced machine downtimes. In addition, the efficient disposal of the backwash sludge in large filter systems reduces operating costs."
Vomat ultra-fine filter systems are available in various sizes from 120 liter flow capacity per minute to large filter or central filter systems with 960 or 1,200 liters per minute. If the capacity requirement for filtration performance increases, for example if many grinding machines have to be controlled centrally, then the large VOMAT ultrafine filtration systems come into consideration.
Strobel said, "Tool manufacturers or regrinders can also use a VOMAT filtration system, which can be upscaled from 1,200 liters/minute in 1,200 liter increments. The large selection of modules and additional optional features offer maximum flexibility."
One example is a large German tool manufacturer that recently doubled its production capacity. The demands for filtration technology have changed accordingly. The new VOMAT FA 960 large system is optimally adapted to the production-specific conditions and can be connected to 12 grinding machines. A well-designed filter capacity control with back flushing only on demand reduces the energy consumption.
Strobel said, "The cooling lubricant can now remain in the system for an extremely long time with constant temperature control and excellent cleanliness, even with large amounts of dirty oil. Thanks to the VOMAT system, tool manufacturers are able to produce the highest quality even with very large batches and save costs when filtering their coolant."
Related Glossary Terms
coolant


coolant

Fluid that reduces temperature buildup at the tool/workpiece interface during machining. Normally takes the form of a liquid such as soluble or chemical mixtures (semisynthetic, synthetic) but can be pressurized air or other gas. Because of water's ability to absorb great quantities of heat, it is widely used as a coolant and vehicle for various cutting compounds, with the water-to-compound ratio varying with the machining task. See cutting fluid; semisynthetic cutting fluid; soluble-oil cutting fluid; synthetic cutting fluid.

grinding


grinding

Machining operation in which material is removed from the workpiece by a powered abrasive wheel, stone, belt, paste, sheet, compound, slurry, etc. Takes various forms: surface grinding (creates flat and/or squared surfaces); cylindrical grinding (for external cylindrical and tapered shapes, fillets, undercuts, etc.); centerless grinding; chamfering; thread and form grinding; tool and cutter grinding; offhand grinding; lapping and polishing (grinding with extremely fine grits to create ultrasmooth surfaces); honing; and disc grinding.

high-speed steels ( HSS)


high-speed steels ( HSS)

Available in two major types: tungsten high-speed steels (designated by letter T having tungsten as the principal alloying element) and molybdenum high-speed steels (designated by letter M having molybdenum as the principal alloying element). The type T high-speed steels containing cobalt have higher wear resistance and greater red (hot) hardness, withstanding cutting temperature up to 1,100º F (590º C). The type T steels are used to fabricate metalcutting tools (milling cutters, drills, reamers and taps), woodworking tools, various types of punches and dies, ball and roller bearings. The type M steels are used for cutting tools and various types of dies.