March 18, 2020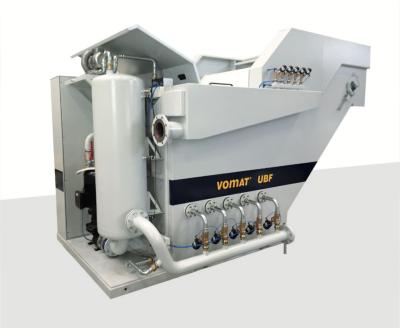 Talking ultrafine filtration of water-soluble, fully synthetic coolants, emulsions or oils contaminated by sludge or chips - the use of a suitable filter system in industrial metalworking, such as tool grinding, turning and milling, is an important parameter for success. This is because ultrafine filtration plays a key role in ensuring that the machining process produces high quality, is sustainable and economical, and keeps the wear on the installed coolant system components low. With the new UBF vacuum belt filter, filter manufacturer Vomat is presenting a high-performance system that filters grinding residues, of metals and nonferrous alloys, from a wide variety of lubricants and coolants.
Vomat systems are ideal for the filtration of ultrafine particles from oil and water-based coolants, such as those produced by grinding, turning, milling, drilling, honing, lapping, eroding and other machining processes. Vomat offers companies in the metalworking industry individually tailored concepts for the filtration of cooling lubricants in their machining processes, as well as special filtration solutions for a wide variety of materials based on their many years of experience.
With the UBF vacuum belt filter, Vomat is now expanding its product portfolio with a new high-performance filtration system. The Vomat UBF filters modern cooling lubricants and grinding oils to high purity standards combined with low operating costs and minimal space requirements, which is a great plus for the metal industry.
Mike Groh, sales manager at Vomat, said: "Our new UBF is truly versatile. It can be used for filtering various ferrous and nonferrous alloys, hard metals, disc abrasives, binders, etc. without the need of a special pre-separation system. Depending on the material to be filtered and the characteristics of the filter cake, the filter fineness is between 10 and 30 µm. If desired a fine filter system can be installed downstream to further increase the filter fineness.
Vomat offers the new vacuum belt filter in different volume flow capacities of 200 l/min to 2,000 l/min. During operation, a vacuum is generated and the system pumps suck the cooling lubricant to be cleaned through a high-performance filter belt and makes the cleaned medium continuously available to the process without interruption.
The disposal of machining sludge with low residual moisture is automatic via several filter belts. More over the UBF can efficiently filter larger chips, from turning or milling operations. The fully automatic belt cleaning system allows for user-friendly sludge disposal directly into transport containers provided by recycling companies. The integrated or external cooling system, can be cooled by means of a compressor or plant provided cold water. It has a control accuracy of +/-1.0 K and guarantees constant low fluid temperatures.
An important advantage is the low-maintenance concept Vomat technology offers. The UBF is designed in such a way that a company's own maintenance personnel can easily service the machines on site at set intervals. Thanks to an integrated remote control system, the UBF filtration system can be monitored via the Internet by Vomat. This means a reduction of possible system failures through early detection.
Groh stated, "If the worst comes to worst, Vomat employees can trouble shoot the machine immediately after the occurrence without delay. In real-time communication with Vomat staff in Germany, they are able to eliminate problems quickly."
The high technical standard with regard to operational reliability and energy efficiency is reflected among other things, in the use of frequency-controlled drives and pumps, as well as in design solutions for saving in energy-intensive processes such as vacuum generation. In addition, the UBF also scores with energy efficiency in cooling: Vomat equips the UBF with chilled water or compressor cooling systems which have a much better coefficient of performance than conventional cooling systems with switch-on and switch-off thermostatic controls.
Groh said: "The compact UBF unit is extremely easy to maintain thanks to well thought-out design features. Due to a special belt guide, the vacuum belt filter, which can be used in a variety of filtration scenarios, requires about 70 percent less space than other systems on the market, while providing 100 percent performance. In comparison to the competition we have three times the filtration performance per square meter of production area. This is a significant cost benefit in times of expensive production space"