October 01, 2019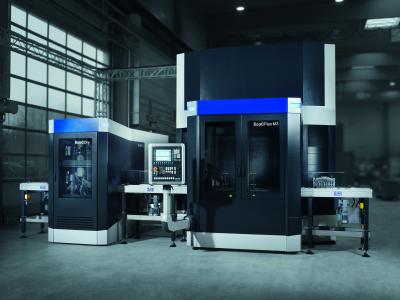 The application fields of part cleaning processes using aqueous media range from coarse through intermediate to fine and ultrafine cleaning. Before an investment in suitable cleaning equipment is made, key questions regarding cleaning quality, throughput, cycle times, process stability and cost efficiency must be answered. Ecoclean addresses these aspects via different machine concepts adapted to the respective industries and tasks.
Whether it's in automobile manufacturing or its supplier industries, medical equipment production, mechanical engineering, machining, punching, drawing or bending of components, precision mechanics or optical devices – water-based cleaning with alkaline, neutral and acidic media is the technology most frequently employed in industry. True to the principle of "like dissolves like," it enters the field whenever water-based (polar) contamination – e.g., coolant and lubricant emulsions, polishing pastes, particles, abrasive materials, salts or fingerprints – need to be removed. For water-based part cleaning processes, Ecoclean offers an extensive range of both standard cleaning systems and customer-specific designs. An optimum adaptation to the tasks and demands of distinct industries is key to superior cleaning quality, higher process reliability and plant availability, in addition to saving costs and resources.
Short cycle times and high flexibility have made robot cells an indispensable item of production equipment when it comes to preliminary, intermediate and final cleaning of engine and transmission parts such as cylinder heads and crankcases in automotive manufacturing. With its EcoCflex 3M/3L (pictured), Ecoclean sets new standards for such cleaning systems. This is due, on the one hand, to the SCARA manipulator developed specifically for use in cleaning equipment, replacing the conventional adapted six-axis articulated arm robot. Thanks to its rugged design consisting exclusively of high-strength aluminium and high-grade steel, augmented by an IP 69 protection class rating, the unit resists high-pressure water jets and is submersible. But Ecoclean has not merely adapted the robot itself – its control system, too, is matched to the application. The assembly can be operated conveniently via the CNC controller of the cleaning machine. The need for a separate PLC controlling the robot, which used to be a standard configuration, has thus been eliminated. Equipped with application-specific innovative process technology, the EcoCflex 3 enables the user to realize high and low pressure processes as well as injection flood washing flexibly in one cleaning station.
The EcoCagile M/L can either be equipped for use as a pre-cleaner with a single-bath technique or with a two stage cleaning process for final cleaning. High-pressure deburring with up to 600 bar (75 kW) is optional for both variants. The basic configuration of low-pressure systems and the power injection flood washing are already included in the multifunctional container.
Power injection flood washing with the patented thin-flow nozzle provides optimal results in the basic configuration in the first process stage, while maintaining low energy usage.
Next to many optionally available high-pressure tools, the patented hybrid nozzle provides great results, especially with complex cavities. This tool is used afloat submerged and stands out due to, for example, its ability to reliably eliminate jammed chips.
The many and diverse tasks related to degreasing, intermediate and fine-cleaning of parts across a broad range of general industry applications are covered by Ecoclean with a range of different water-based cleaning systems. The EcoCwave with its vacuum-tight work chamber is designed for immersion and spray processes ranging from coarse through intermediate to ultra-fine cleaning. A genuine all-rounder, it is equipped with two or three tanks as standard depending on the application. These tanks are mounted upright and of flow-optimized design to prevent the formation of chip or dirt pockets. In addition, each tank has its own separate cleaning fluid circuit with full-flow and bypass filtration. Thanks to an optimized rollover unit in the work chamber, the fluids and mechanical cleaning devices – e.g., ultrasonic units and spray nozzles – can reach the product effectively from all sides. All this not merely helps to improve cleaning quality but also tangibly increases the fluid lifetime, thereby reducing cleaning costs.
EcoCmax systems, too, can be easily adapted to the contamination type and specified cleanliness level by adjusting the cleaning program. A single-chamber system for three-stage cleaning processes plus drying, it features full-flow filtration in the work chamber filling and draining circuit as well as continuous bypass filtration on all flood tanks for reconditioning the rinsing baths via an integrated evaporator with heat recovery.
Part cleanliness specifications limiting particulates to the single-digit micrometer range and below while also imposing ultra-exacting thresholds for film-type contaminants are routinely imposed in diverse industries today. Such complex tasks are the domain of UCM AG, the precision applications business unit of the SBS Ecoclean Group. Starting out from a specific part geometry, material, contamination and cleanliness requirement, the company develops made-to-measure cleaning processes and corresponding ultrafine cleaning equipment comprising ultrasound technology. These ultrasound-based ultrafine cleaning systems are built to deliver unsurpassed levels of cleanliness reliably and efficiently. To this end, they are equipped with UCM's proprietary four-sided overflow system as standard. Another feature of these machines is that all components – e.g., tanks, storage vessels, pipelines, etc. – are of flow-optimized design to prevent accumulations of foreign matter or stagnant water.
The ideal equipment and process technology as well as process parameters for a given application can be effectively and reliably determined through cleaning trials with authentic contaminated parts at Ecoclean's and UCM's test centers.