July 20, 2018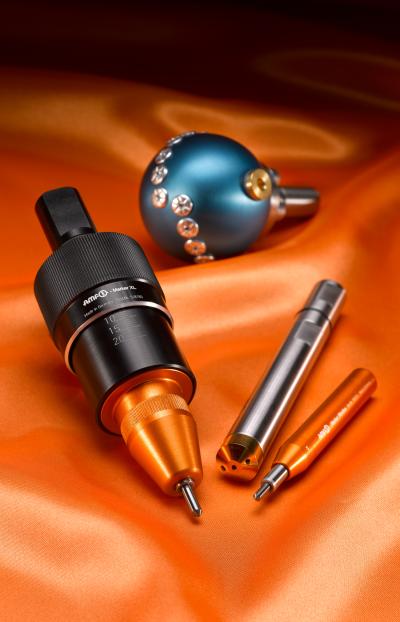 Heimatec Inc. announces immediate availability of marking and cleaning tools from its European partner Andreas Maier, under the AMF brand. The announcement was made by the president of Heimatec Inc., Preben Hansen. "This development brings additional products to our current customers and responds to the market needs for quality marking and cleaning tools for workpieces in CNC machining," he observed.
AMF marking tools are used for the permanent marking of workpieces made from all types of metal and thermoplastic substrates. They are typically mounted in toolholders for use in the spindle of a CNC machine tool. Marking surfaces is achieved by a combination process of pressure and material displacement. These tools can function with or without rotation and usually without height adjustment on the spindle, resulting in a high-speed, highly efficient marking process and no degradation of the substrate. Thin material and cylindrical workpieces can be easily marked using AMF tools. Cost savings are said to be substantial, compared to conventional marking or labeling. Key design feature of the AMF marking tool is its needle, which achieves the surface marking with clarity and at high speed.
AMF cleaning tools are used for the cleaning of workpieces, tooling and the interior of CNC machines. They are typically clamped in toolholders and mounted directly onto the machine spindle. Using through spindle coolant or compressed air, the cleaning tool removes swarf and other debris from workpieces, clamping tools, rotary tables and other fixtures before the next workpiece blank is loaded.
The machine spindle can remain stationary or in slow rotation mode during the cleaning process. Models are available in horizontal or vertical styles to suit the machine spindle configuration and feature adjustable jet nozzles for precise cleaning and coolant or compressed air conservation. Kits can be furnished complete with tools, gauge and all fastening hardware or sold separately.
Related Glossary Terms
computer numerical control ( CNC)


computer numerical control ( CNC)

Microprocessor-based controller dedicated to a machine tool that permits the creation or modification of parts. Programmed numerical control activates the machine's servos and spindle drives and controls the various machining operations. See DNC, direct numerical control; NC, numerical control.

coolant


coolant

Fluid that reduces temperature buildup at the tool/workpiece interface during machining. Normally takes the form of a liquid such as soluble or chemical mixtures (semisynthetic, synthetic) but can be pressurized air or other gas. Because of water's ability to absorb great quantities of heat, it is widely used as a coolant and vehicle for various cutting compounds, with the water-to-compound ratio varying with the machining task. See cutting fluid; semisynthetic cutting fluid; soluble-oil cutting fluid; synthetic cutting fluid.

swarf


swarf

Metal fines and grinding wheel particles generated during grinding.
Additional Products from Platinum Tooling Technologies Inc.