February 15, 2016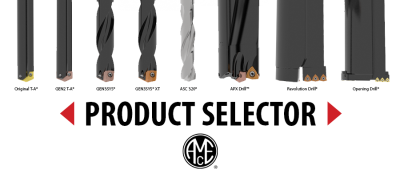 Allied Machine & Engineering Corp, Dover, Ohio, recently announced updates to its Product Selector online recommendation tool, according to a Feb. 8 company news release. The web-based selector tool , which customers can use to find new tools to meet their needs or access critical data about their existing equipment, now includes more drilling products from the Allied catalog as well as several new optional machine constraints.
Allied recently added the Flatbottom T-A® Drilling inserts and new T-A holders to the Product Selector catalog. In addition, Allied customers now have the option to set machine power, thrust, and coolant capability as program constraints, ensuring that only tools appropriate for a particular customer's applications are suggested by the program, according to the news release.
"The addition of new products to the Product Selector tool, as well as the [new] optional constraints, ensure that we are able to give customers all of the information they need to make the best holemaking tool purchases possible," said Robert Brown, Allied's product manager. "We are also able to provide fast, easy support for our existing customers who want a recommendation before use."
Allied customers can use the Product Selector to find information such as the recommended speed and feed for a tool, as well as its power and coolant requirements.
Related Glossary Terms
coolant


coolant

Fluid that reduces temperature buildup at the tool/workpiece interface during machining. Normally takes the form of a liquid such as soluble or chemical mixtures (semisynthetic, synthetic) but can be pressurized air or other gas. Because of water's ability to absorb great quantities of heat, it is widely used as a coolant and vehicle for various cutting compounds, with the water-to-compound ratio varying with the machining task. See cutting fluid; semisynthetic cutting fluid; soluble-oil cutting fluid; synthetic cutting fluid.

feed


feed

Rate of change of position of the tool as a whole, relative to the workpiece while cutting.