February 13, 2013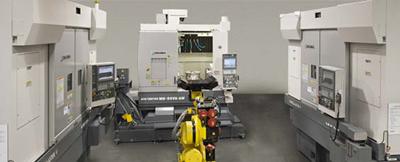 Okuma America Corp. announced the launch of the new All-Okuma wheel cell. The new wheel cell includes the new MB-56VA-AW aluminum wheel drilling machine, designed to deliver the reliability of Okuma lathes in a dedicated machining center/drill. Also included are two Okuma CNC lathes in a choice of sizes, a FANUC robot, and a variety of conveyance options, allowing for a customized cell configuration. All three Okuma machines feature the THINC-OSP open architecture CNC control for easy integration, enhanced functionality and accessibility to third-party applications. The new wheel cell is specifically designed to enable wheel manufacturers to increase productivity and efficiency while minimizing downtime.
Highlights of the New All-Okuma Wheel Cell:
MB-56VA-AW Aluminum Wheel Drilling Machine: The reliability of Okuma lathes is now available in this machining center/drill. Built based on Okuma's premier vertical machining center, it employs the latest technology and tailors the specs around the high-speed requirements of aluminum wheel drilling and milling. The integrated high-speed trunnion table provides full 4-axis machining capabilities.
Okuma CNC Lathes: With 5 wheel lathes to choose from, the Okuma machines allow for customizable cell configurations — sizes ranging from 16" to 24", featuring quick-changeover workholding providing flexible top tooling for the chuck, reducing the need for changeovers between setups.
THINC-OSP Open Architecture CNC: Because all three machines are now Okumas, all three feature the THINC-OSP control which allows fuller integration with the latest engineering simulation tools and throughout operations. Real-time monitoring and alarm notifications can now be enabled. Cell monitoring and performance reporting functions are more robust. Addition of third-party applications is now possible with this open architecture CNC control.
FANUC Robot: Proven gripper design and vision technology allows fixtureless locating and orientation, eliminating manned verification and offset probing.
Gosiger Automation, a member of Partners in THINC, expertly handles installation and service for the All-Okuma wheel cell. With a team of 50 deeply qualified experts they utilize advanced engineering and simulation tools, Controllogix and Wheel Process Monitoring to ensure end-to-end wheel cell performance.