June 12,2018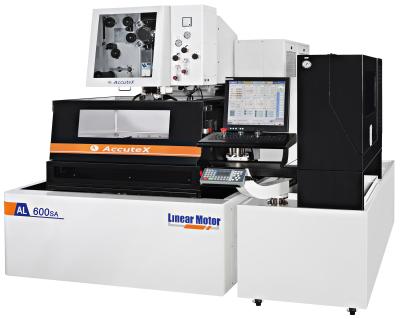 AccuteX's new AL-600SA CNC Wire EDM is from Absolute Machine Tools. The AL-600SA moving-table model can be fully equipped with 6-axis capability, PCD cutting circuit, and AccuteX's exclusive linear shaft motors that provide a 10-year positioning guarantee. These motors were designed and built fully in-house specifically for AccuteX wire EDMs. This concept ensures enhanced precision and performance with its maintenance-free design, 10 percent faster cutting, HIWIN linear guideways, 0.000004" Fagor glass scales and 64 bit processing.
S-cut fine finish skimming (9 Ra µin. surface finish), enhanced lead in/lead out control that eliminates witness marks at entry and exit points. Accuracy is achieved at +/-0.00012" (0.003 mm) and repeatability +/-0.00008" (0.002 mm). MST-II Micro Sparking Technology comes standard for surface finishes down to 5 Ra µin. in five passes.
The AL-600SAi comes standard with AccuteX's patented fully annealing automatic wire threading (AWT) with the ability to perform submerged machining up to 11.81" (300mm) deep. Travels are 23.62" X-axis, 15.74" Y-axis, 11.81" Z-axis, and 3.94" U & V axes. Maximum workpiece size (XYZ) is 38.97" z 24.41" x 11.61" (990 mm x 621 mm x 295 mm) with a maximum workpiece weight of 2,450 lbs. (1,113 kg).