August 01, 2011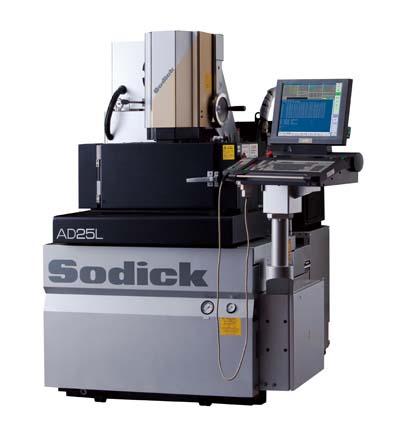 Sodick Inc. is releasing the AD25L Sinker EDM. The AD25L Sinker EDM has a small footprint and can machine at high speeds.
The highly compact AD25L provides improved machining accuracy and speeds due to the incorporation of the Sodick High Speed Finish Circuit (SVC). SVC controls the discharge voltage of each pulse to ensure surface finish. Surface finish can be uniformly and efficiently controlled to provide a high-grade texture or mirror surface in a very short period of time. The AD25L also features Zero Electrode Wear Technology; this technology allows the EDMing of steel materials with virtually zero electrode wear when using graphite or copper electrodes. The AD25L has an X, Y, and Z travel of 11.81" (300mm) x 7.87" (200mm) x 5.91" (150mm) and can accommodate workpieces up to 220 lbs (100 kg). The AD25L is Sodick's cost-friendly Sinker EDM.
The AD25L can reduce EDMing time by up to 50 percent over conventional EDMs. Since the AD25L has a Z-Axis which is linear motor driven, there are no ball screws or couplings and backlash is completely eliminated.
Related Glossary Terms
backlash


backlash

Reaction in dynamic motion systems where potential energy that was created while the object was in motion is released when the object stops. Release of this potential energy or inertia causes the device to quickly snap backward relative to the last direction of motion. Backlash can cause a system's final resting position to be different from what was intended and from where the control system intended to stop the device.

electrical-discharge machining ( EDM)


electrical-discharge machining ( EDM)

Process that vaporizes conductive materials by controlled application of pulsed electrical current that flows between a workpiece and electrode (tool) in a dielectric fluid. Permits machining shapes to tight accuracies without the internal stresses conventional machining often generates. Useful in diemaking.

linear motor


linear motor

Functionally the same as a rotary motor in a machine tool, a linear motor can be thought of as a standard permanent-magnet, rotary-style motor slit axially to the center and then peeled back and laid flat. The major advantage of using a linear motor to drive the axis motion is that it eliminates the inefficiency and mechanical variance caused by the ballscrew assembly system used in most CNC machines.