March 20, 2020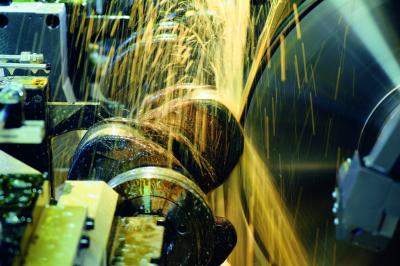 New linear motors and well proven hydrostatic guides in the 6S and 6L grinding machine series open up new potential. Higher speeds, various detailed improvements and optimized ease of maintenance result in shorter cycle times, maximized quality and cost savings. The expanded modular concept for the table assemblies makes the platform 6 grinding machines more flexible and adaptable.

High-performance linear drives on the X and Z axes allow high travel and acceleration values combined with reduced assembly space. Hydrostatic round guides for the X axes enable maximum dynamics, dampen vibrations and prevent stick-slip due to minimal friction.
The latest measuring technology (such as in-process measurements combined with the latest control technology) helps to produce good parts starting with the very first part of a production run.
Table assemblies, such as workhead, tailstocks or steady rests, are mounted on standardized universal base plates, which can be positioned for different part setups either automatically or manually. The modularity shines due to its highly flexible component arrangement of table assemblies on guide rails in the working area, and allows adaptation to future grinding tasks.
The entire concept of the grinding machine revolves around easy access to all components in and on the machine plus optimized setup. Increased accessibility and serviceability reduce maintenance effort and costs. Completely covering all guides and motors suits for the grinding with waterbase, emulsion and oil coolants.
The polymer concrete machine base impresses with its outstanding damping performance and high torsional stiffness. The optimized machine bed rinsing makes maintenance easier, and piping for the media feed integrated into the machine base allows for future machine upgrades. Reduced Machine dimensions eliminate the need for wide load transports and reduces cost.
Innovations in the field of cooling, pumps and pressure regulation enable the removal of cooling media harmful to the environment and health. These environmental improvements along with increased energy effi ciency reduce the cost of ownership and round off the developments on the new platform 6.