May 05, 2023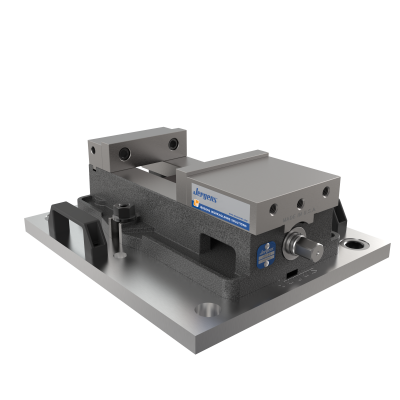 Jergens new 5-inch Heavy Duty Machine Vise ensures secure part holding for general applications across the range of CNC machining, including high production. Designed to a relatively small size and weight, the vise is also more easily moved and relocated, speeding up the time in between change overs and reducing operator fatigue.
"Ergonomics and the physical strain that operators face (during repeated and / or heavy lifting) are important issues that we address", said Joe Farkas, Jergens' National Sales Manager for Workholding Solutions. "Advancements in engineering and material strength are key considerations for our product design" Farkas continued.
Hardened and moveable jaw plates combat lifting, which can occur during heavier metal removal applications, to help ensure tolerances of ±.0005". Other vise features include the nickel-plated lead screw for long life, needle bearing design that facilitates ease of use even at high clamping force, and a heavy-duty swivel handle to further ease the load for operators. Made in the U.S.A. of stress relieved ductile iron (80,000 psi) and flame hardened, the new vise provides very long usable life and predictable performance.
Accessories for the vise include locating key sets, case hardened steel jaw plates, and a Ball Lock® fixture plate kit for quick change capability. These engineered plates, available in aluminum or steel, have locating slots and tapped mounting holes machined to accept the vise for easy mounting. As with other Jergens quick change workholding products, users can reduce setup times from minutes to seconds.
Related Glossary Terms
computer numerical control ( CNC)


computer numerical control ( CNC)

Microprocessor-based controller dedicated to a machine tool that permits the creation or modification of parts. Programmed numerical control activates the machine's servos and spindle drives and controls the various machining operations. See DNC, direct numerical control; NC, numerical control.

fatigue


fatigue

Phenomenon leading to fracture under repeated or fluctuating stresses having a maximum value less than the tensile strength of the material. Fatigue fractures are progressive, beginning as minute cracks that grow under the action of the fluctuating stress.

fixture


fixture

Device, often made in-house, that holds a specific workpiece. See jig; modular fixturing.