September 27, 2016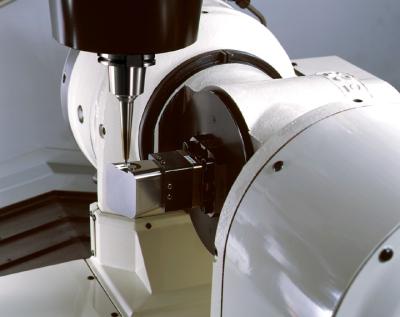 Makino has created a new 5-axis version of its V33i hard milling vertical machining center, the V33i-5XB. The V33i platform provides extreme dynamic accuracy for long hours of continuous hardmilling, and the new 5-axis capability provides for reduced part setups and extreme accuracy in contoured shapes.

"The V33i is quickly becoming the standard for extreme accuracy die/mold work," says Bill Howard, Makino product manager. "With the addition of 5-axis capabilities, the V33i is an even more attractive option to premium job shops and die/mold shops."

The V33i-5XB enables single set-up access to complex multiple-sided parts and five-axis geometries, reducing time and cost of manual labor. The added 5-axis features provide increased accessibility to under-cut areas, oddly positioned features, and complex geometries, with shorter tool lengths and higher spindle speeds. This assures the long tool life and fine surface finish characteristics.

The 5-axis functionality of the V33i is added via a Makino-designed tilt-trunnion table. The tilt-trunnion table of the V33i-5XB is a 7.87 inch (200 mm) diameter faceplate. It is capable of handling a 66-pound (30 kg) workpiece with dimensions of up to 9.85 inches in diameter x 12.24 inches tall (250 mm x 311 mm) depending on B and C axes positions.

The travels are designed to provide full coverage of the C-axis table in either the zero or 90-degree position. Precise rotary encoders provide 130-degrees of B-axis movement (-20 to +110) and a 360-degree continuous movement on the C-axis. Incremental B- and C-axis indexing can be as finite as 0.0001-degrees.

The machine can be equipped with optional Erowa or System 3R pallet/chuck systems to automate the flow of different workpieces to/from the machine. This helps increase machine utilization, improving productivity and impacting lead-time, while driving down the cost of labor and facilitating unattended machining.

The V33i platform is for high-speed hard milling in materials at 50+ HRC. Refinements to the spindle result in increased stiffness and rigidity, reducing tool chatter. In addition, meticulous attention to the platform's design has reduced potential machine movement and associated thermal growth that could cause inaccuracies during the cutting of long programs. These features help retain superior accuracy during long periods of unattended operation.

The V33i features a shortened spindle that is stiff and rigid. By decreasing the length of the spindle, the V33i platform is able to operate – vibration free – over a wider range of spindle speeds, therefore reducing chatter and improving both surface finish and tool life. In addition, refinements have been made to the lubrication system design to tightly control (or eliminate) spindle thermal growth during long and continuous, high-speed hardmilling typical of die and mold applications.

The V33i is equipped with a 20-HP, 20,000-rpm spindle. For higher speed machining, Makino offers optional 30,000 and 40,000-rpm spindles. Spindle nose configurations are available in CAT 40, HSK 63A and 63F, HSK – E50 and HSK – E32 to support a variety of tooling and applications.

Makino's V-series high speed spindle features a patented spindle core cooling system, which circulates chilled coolant through the spindle and bearing packages, dramatically reducing spindle growth. Increased lubricant flow in the V33i and V33i-5XB further minimizes thermal growth, providing superior accuracy and an increased bearing life.

The machine's strength and accuracy is due in part to its massive castings. Integral, hardened and ground, hand-scraped guideways provide outstanding geometric tolerances and extremely precise positioning and repeatability. The no-overhang, fully supported construction insures peak motion performance with no lost motion or unsupported components during motion, which reportedly guarantees tight dynamic tolerances for hardmilling of complex, 3D, sculptured surfaces.

Temperature controlled lubricant is used throughout the machine to minimize thermal growth during cutting. Cooled elements such as core-cooled ballscrews, lubricated ball nuts, a servomotor cooling jacket system, and temperature-controlled passageways provide superior structural temperature control. Controlling the impact of machine movement on thermal characteristics reduces temperature impact on the machining process and provides sustainable, long-term, dynamic accuracy.

"During long hard milling jobs, many machines begin to lose their accuracy," says Bill Howard, Makino VMC product manager. "Being able to hard mill accurately while leaving the machine unattended enables shops to reduce costs and decrease cycle times, which is exactly what the V33i and V33i-5XB machines are designed for."

In addition, both the V33i and V33i-5XB are equipped with the latest version of Makino's Proprietary Super Geometric Intelligence (SGI.5) control software to improve feedrates, accuracy, and reduce part cycle times by 40 percent or more compared with the prior generation of software.
Additional Products from Makino Inc.